Formula Drift Malaysia
Es ist mir eine Ehre, meinen ersten Bericht für USED4 gleich über Formula Drift schreiben zu dürfen. Es war nun mein drittes Mal beim malaiischen Formula Drift-Event, der dieses Jahr in SpeedCity KL stattfand, anstelle dem Dataran Merdeka (Malaysischem Unabhängigkeits Denkmal) wo er in den letzten beiden Jahren durchgeführt wurde. Ich finde diese Strecke ohnehin besser, das Layout war anspruchsvoller, mit mehr Speed und Turns, damit die Pr0fis auch wirklich ihr Können demonstrieren können.
It is an honour for me to write my first report for Used4 about the Formula Drift. It was my third time attending the malaysian formula drift event, which has been held in SpeedCity KL this year, instead of the Dataran Merdeka (Malaysian independence square). I prefer Speedcity, as the layout of the track was more sophisticated with more speed and more turns so that the pro's are able to show their best performance.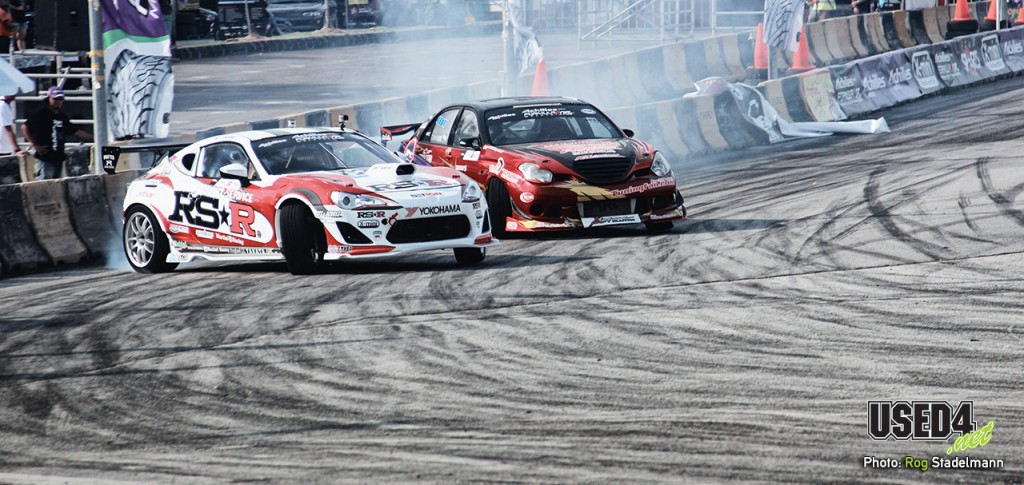 Ich bin überhaupt kein Morgenmensch. Aber wenns um Motorsport geht, dann bin ich schnell hellwach und unterwegs. Dementsprechend früh war ich vor Ort, ca.8.00 Uhr morgens, der erste Fotograf überhaupt. Ausser den Teams und paar Streckenmitarbeitern war noch niemand dort. Umso mehr freute ich mich, die Fahrer während ihres Trainings zu beobachten und zu fotografieren, was eigentlich eine sehr seltene Sache ist, so ganz ohne Zuschauer. Es war wirklich absolut leer und sehr entspannt.
I am not a morning person. But when it comes to motorsports, I'll be showered and ready to go quicker than anyone else. Therefore I was at Speedcity quite early, around 8 Am. I was the first photographer to arrive on the scene. Apart from the teams and a few workers. I was quite excited about the opportunity to take pictures of the drivers during their training sessions, as it is rare to watch them drift without any audience. It was realy empty and a very relaxed atmosphere.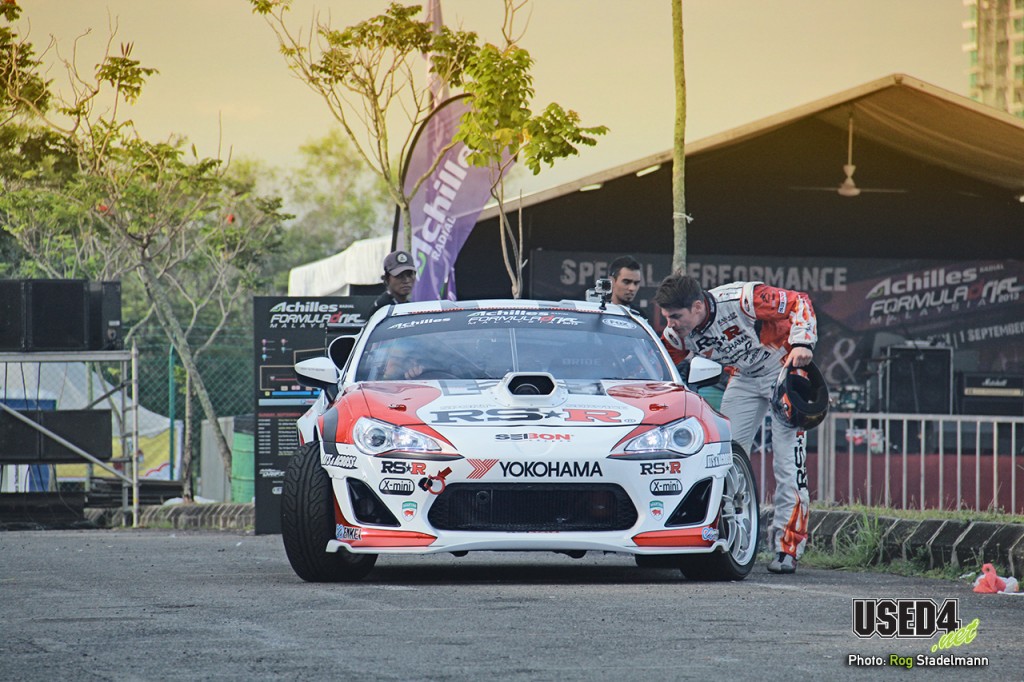 Der mit ein mV8 ausgestattete GT86  von Fredrick Aasbo, der sich später übrigens als der Publikumsliebling überhaupt heraustellte, machte optisch wirklich was her und vor allem soundtechnisch lässt er die Herzen von uns Autofanatikern höher schlagen.
The GT86 from Fredrick Aasbo, which was equipped with a powerful V8, turned out to be one of the audiences favourite. Astonishing appearance mixed with brutal engine sound, kept our heart rate high.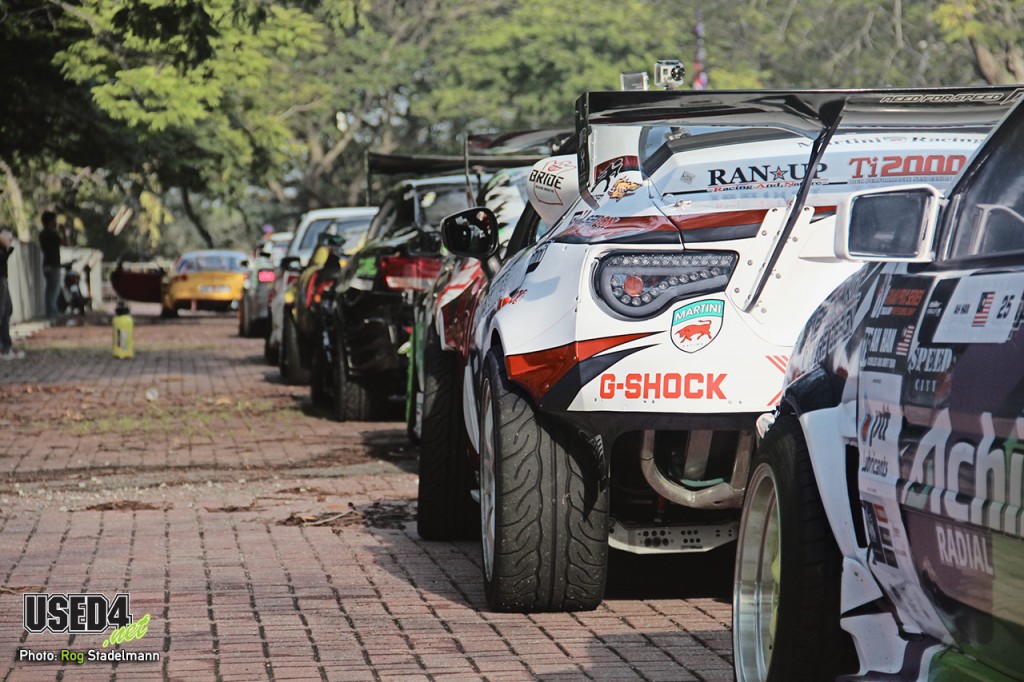 Alle aufgereiht und bereit; die Schlange vor dem Start beim Training
In line and ready ; The qeue infront of the starting line at the training session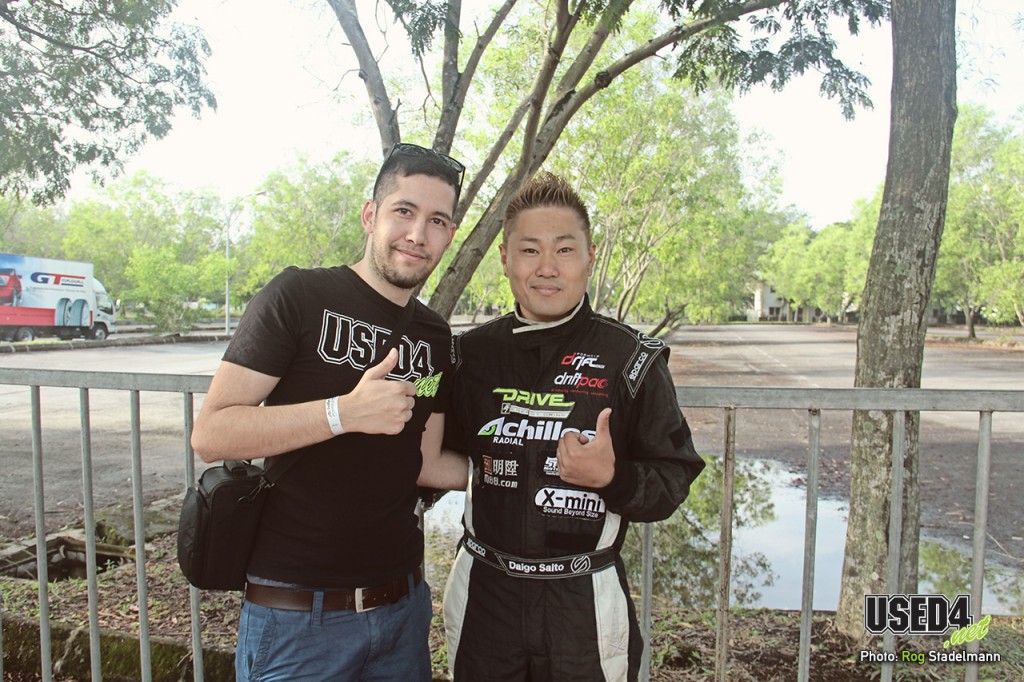 Natürlich liess ich es mir nicht entgehen, ein Foto mit Daigo "Ninja" Saito persönlich zu machen.
Obviously I wouldn't miss the chance to get my own picture with Daigo "ninja" Saito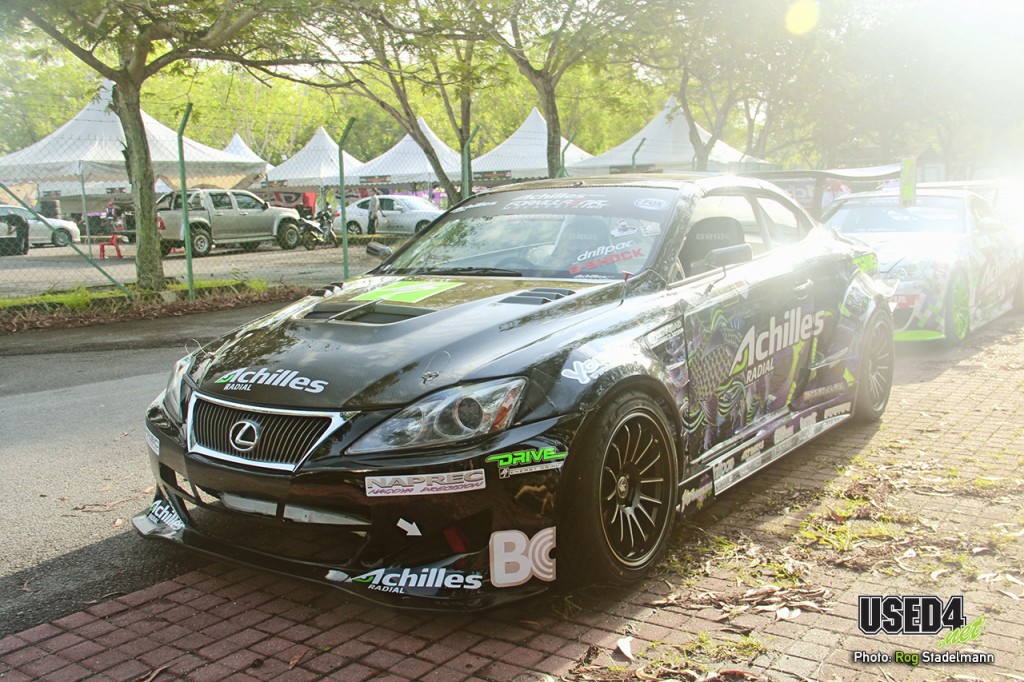 Daigo's Lexus IS250, angetrieben von einem 3,4l Brian Crower Stroker 2JZ-GTE mit rund 1200PS.
Daigo's Lexus IS250, powered by a 3,4l Brian Cower Stroker 2JZ-GTE with an output of 1200HP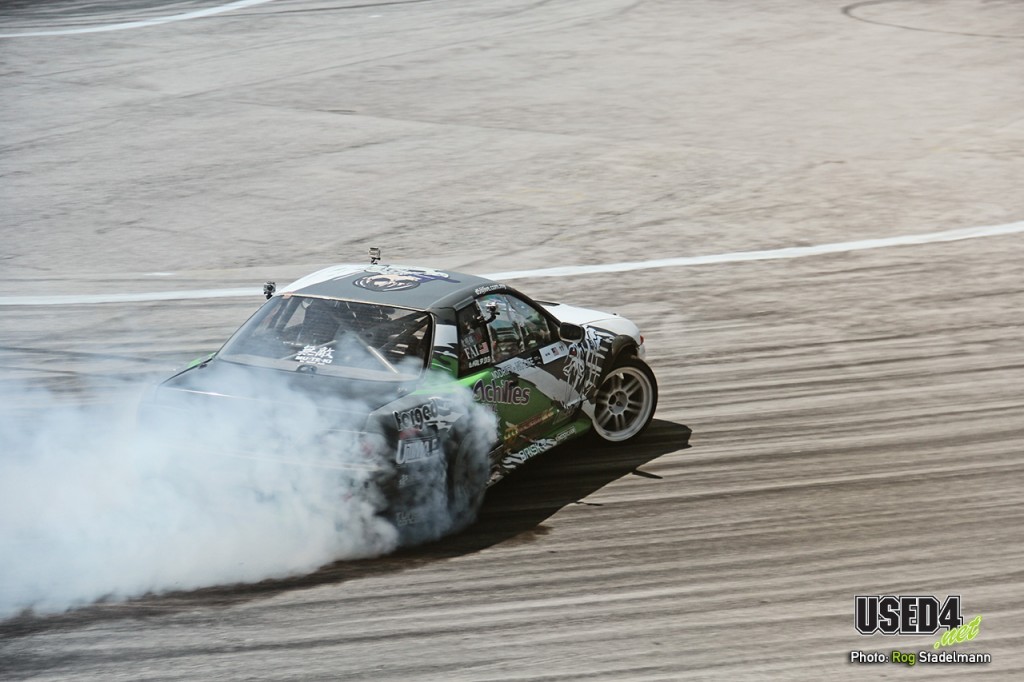 Kurze Zeit später fing dann das Qualifying an, welches im Knockout-Format geführt wurde.
Shortly after, the qualifying started, which was held in a Knockout Format.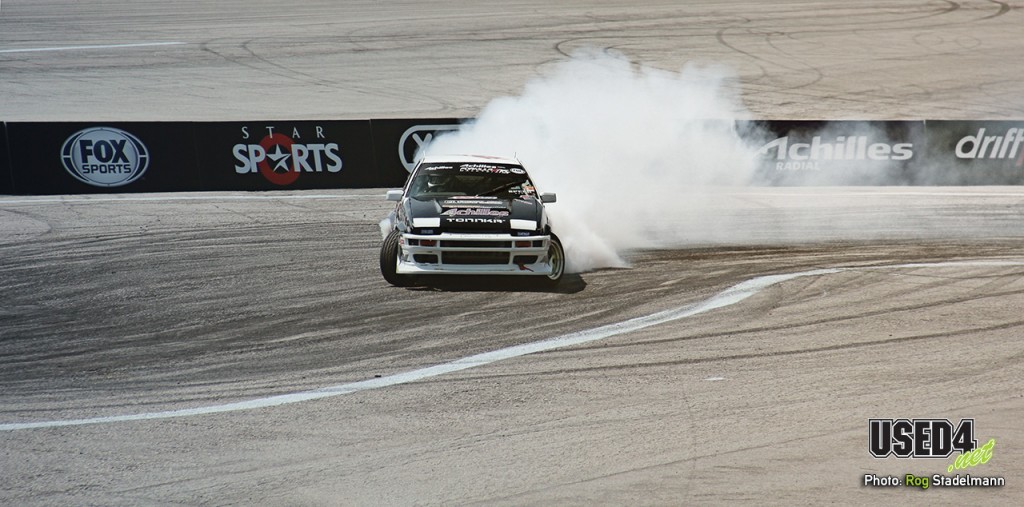 Von den rund 30 Fahrern wurden die 16 Besten gewertet, die wiederum in zwei Gruppen eingeteilt wurden.
Amongst 30 drivers, the 16 best rated where split into 2 groups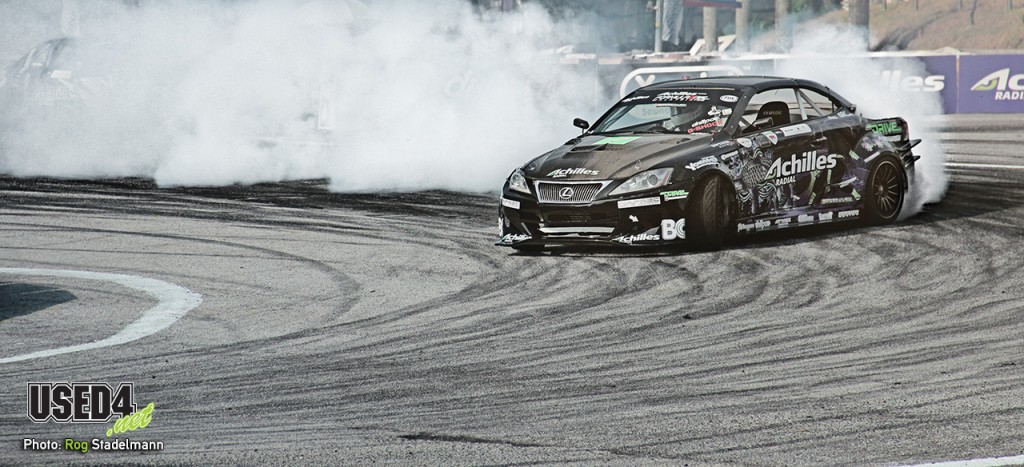 Daigo in Action !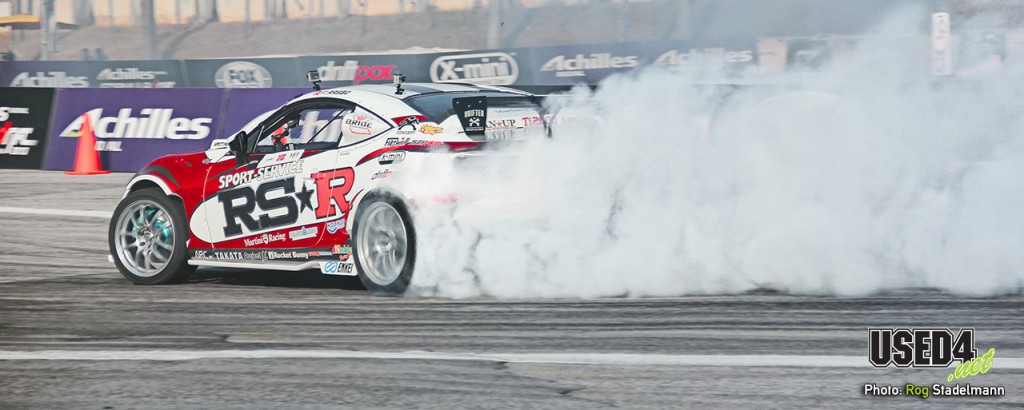 Nach einigen technischen Schwierigkeiten im Training, meisterte Aasbo das Qualifying überraschend gut.
After a few technical issues during the training session, Aasbo mastered the Qualifying surprisingly well.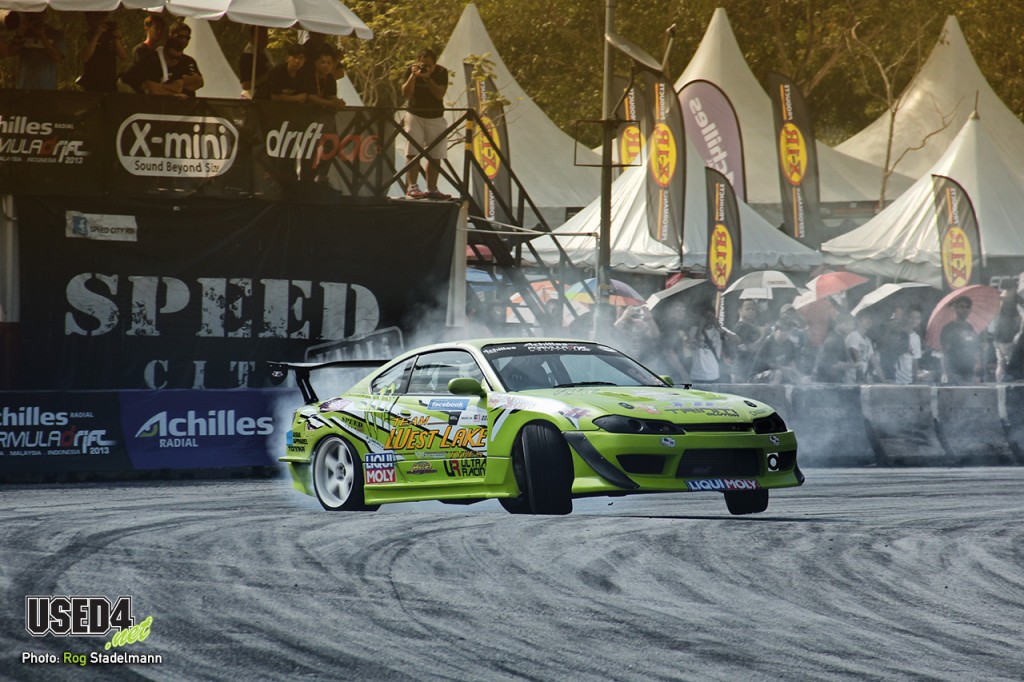 Team Westlake mit vorwiegend malaysischen und singapurischen Fahrern, die ihre S15 und S13 mit brachialer Geschwindigkeit über die Strecke hetzten.
Team Westlake with malay and singaporean drivers which drifted their S15 and S13's over the track with ridicolous speed.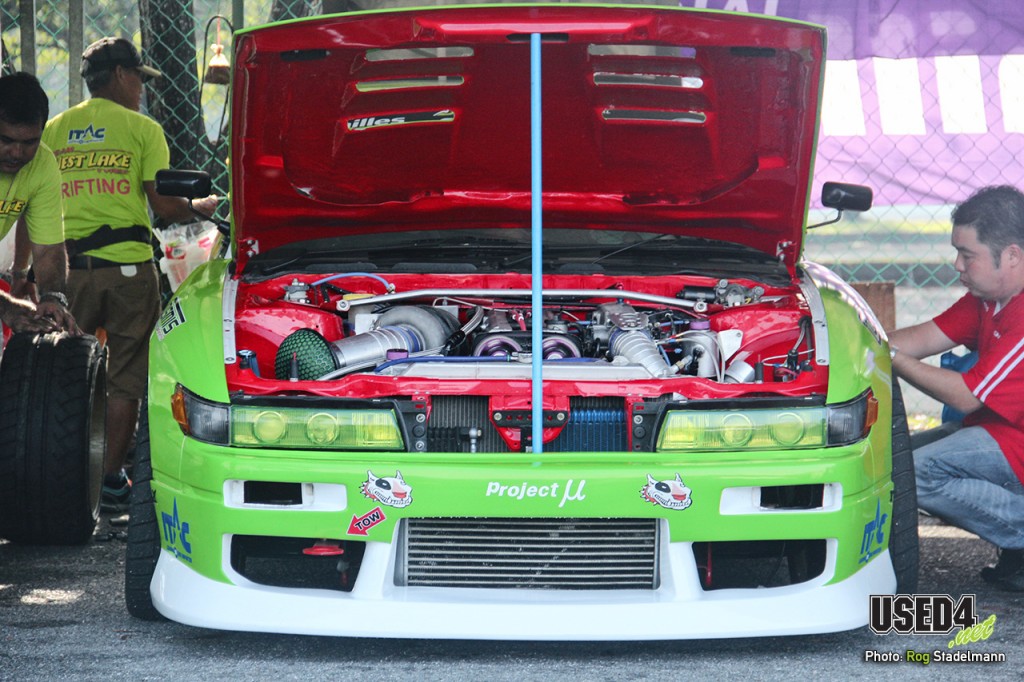 Als es gegen Mittag ging, wurde es heisser und heisser, bis es schlussendlich so heiss war, dass ich wie ein Wasserfall schwitzte. Dank Access-All-Area konnte ich mich zum Glück unter einen Sonnenschirm stellen und Fotos schiessen, ohne mich unters Volk mischen zu müssen.
Around noon the temperature became so hot, I started to look like a waterfall. Thank to access all areas I was able to find an umbrella here and there without having to squash with the visitors.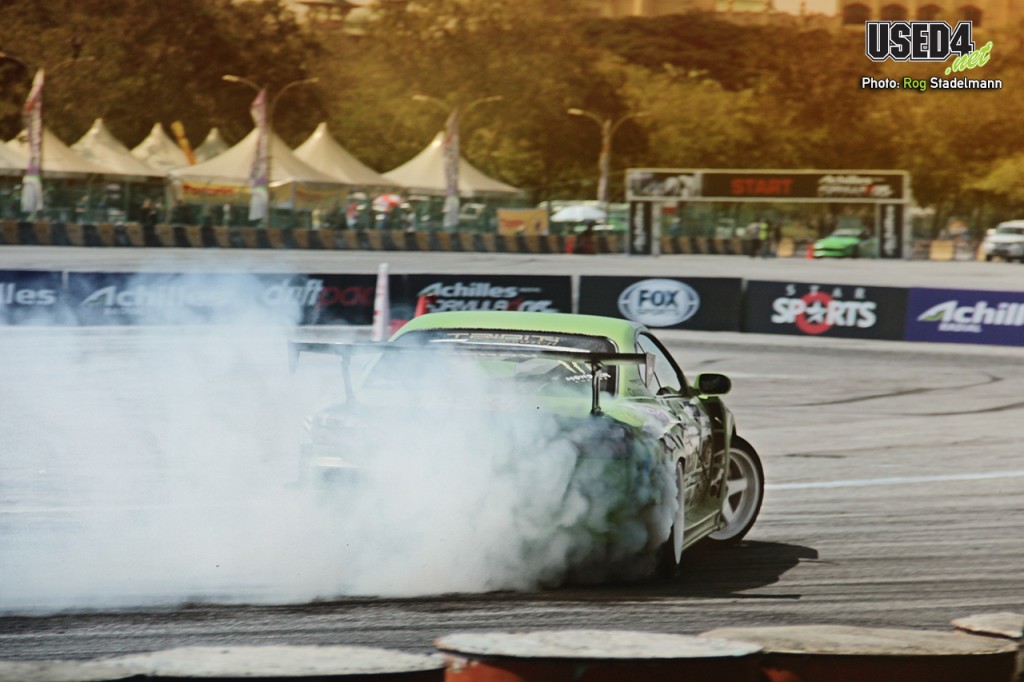 Wie ich feststellte, sind auch hier die meisten der Autos mit einem V8 ausgestattet – nicht wirklich überraschend.
I noticed that most of the cars were equipped with V8's – not surprising after all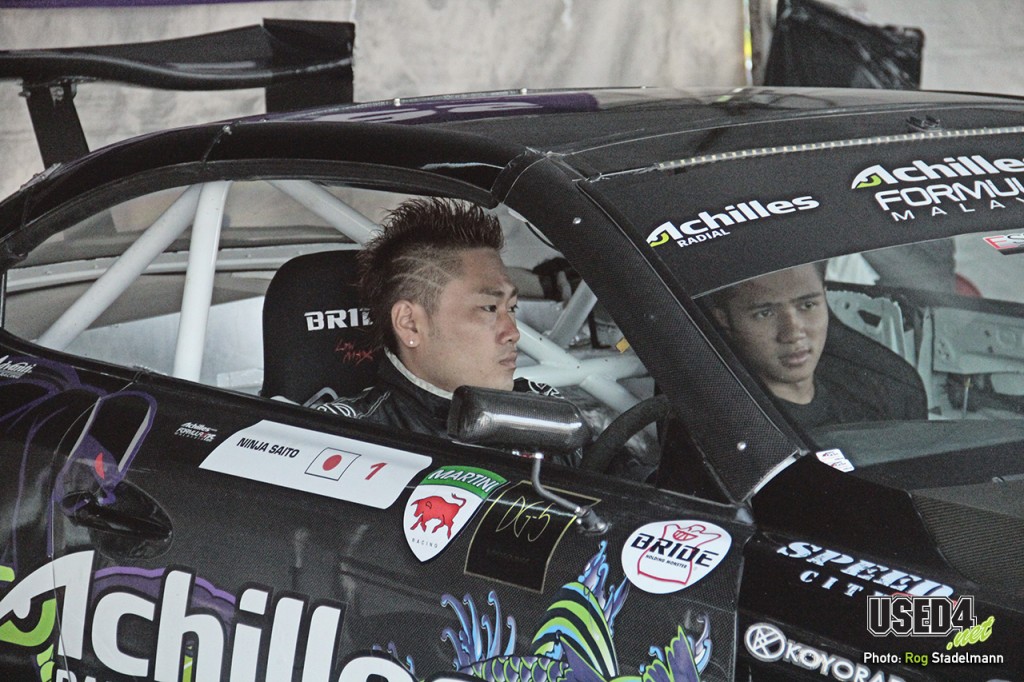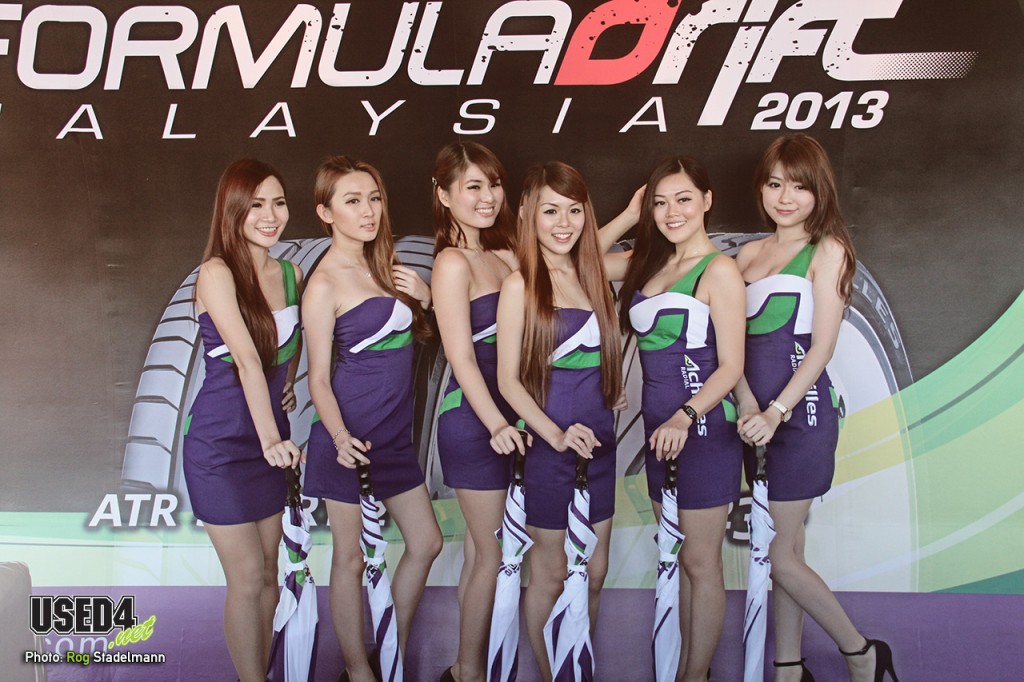 Was wäre ein Motorsport-Event ohne die hübschen Mädchen ?
What would a Motorsport event be without the beautiful race queens ?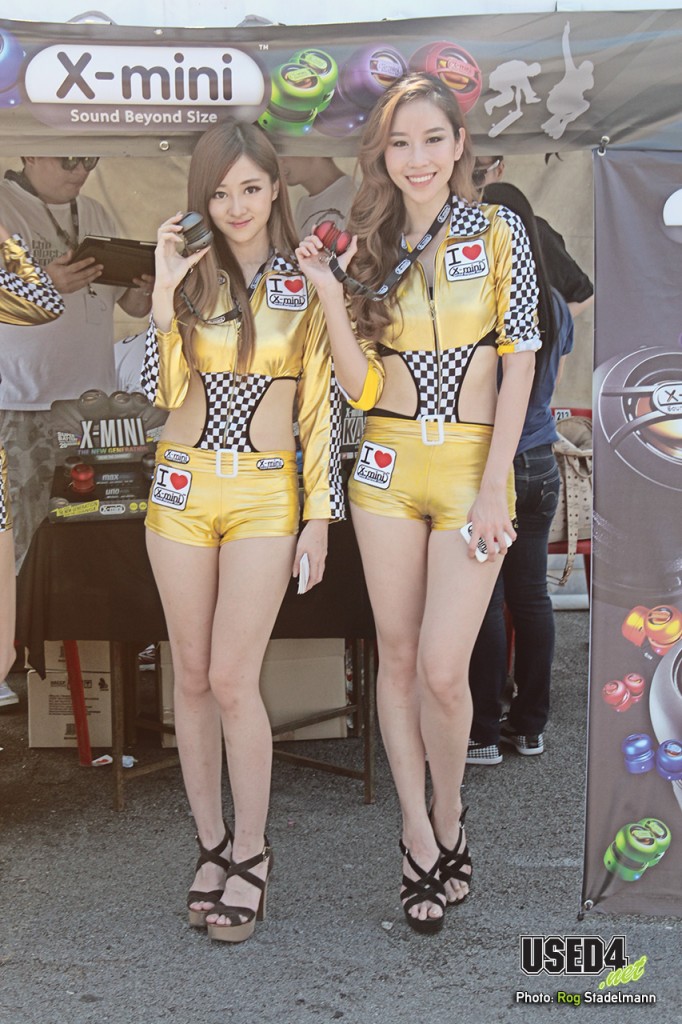 Der Event war mit einer kleinen Händlermeile ausgestattet sowie einer Konzertbühne und dem frei zugänglichem Fahrerlager. All das war wirklich gut besucht und es war auch schön zu sehen, dass auch Familien mit ihren Kindern dort vorbeischauten.
The event was quite full and equipped with dealer stalls, a stage and an accessible paddock for all visitors. It was quite nice to see families with their kids there as well.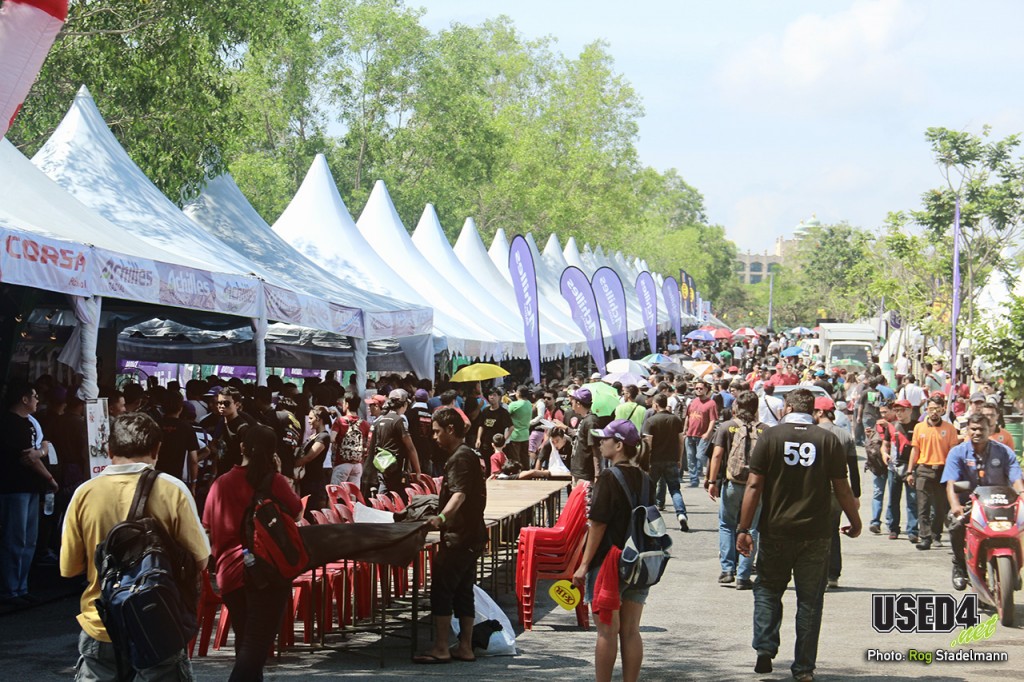 Nach einer kurzen Pause ging dann der eigentliche Event los.
After a short break, the main event started.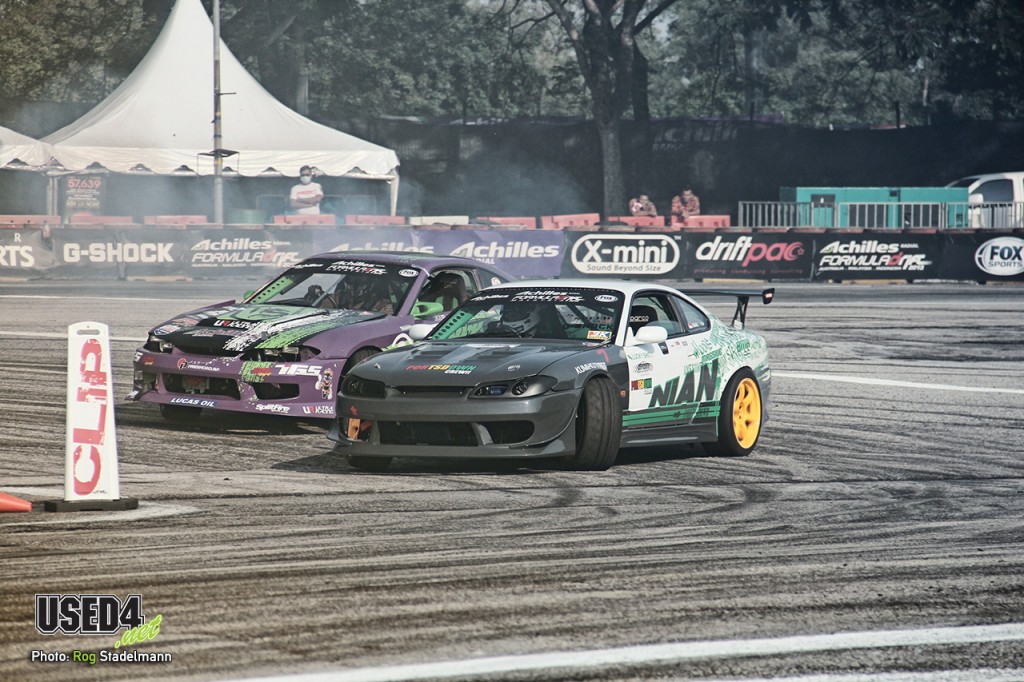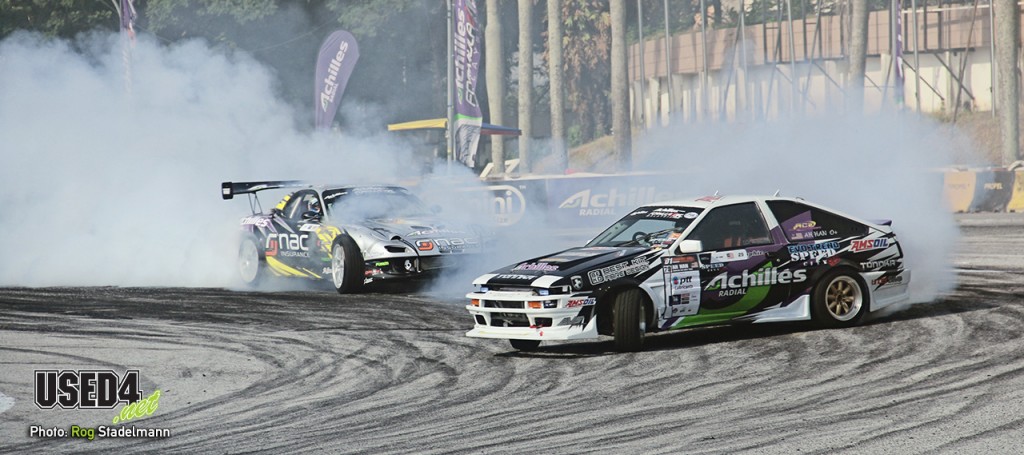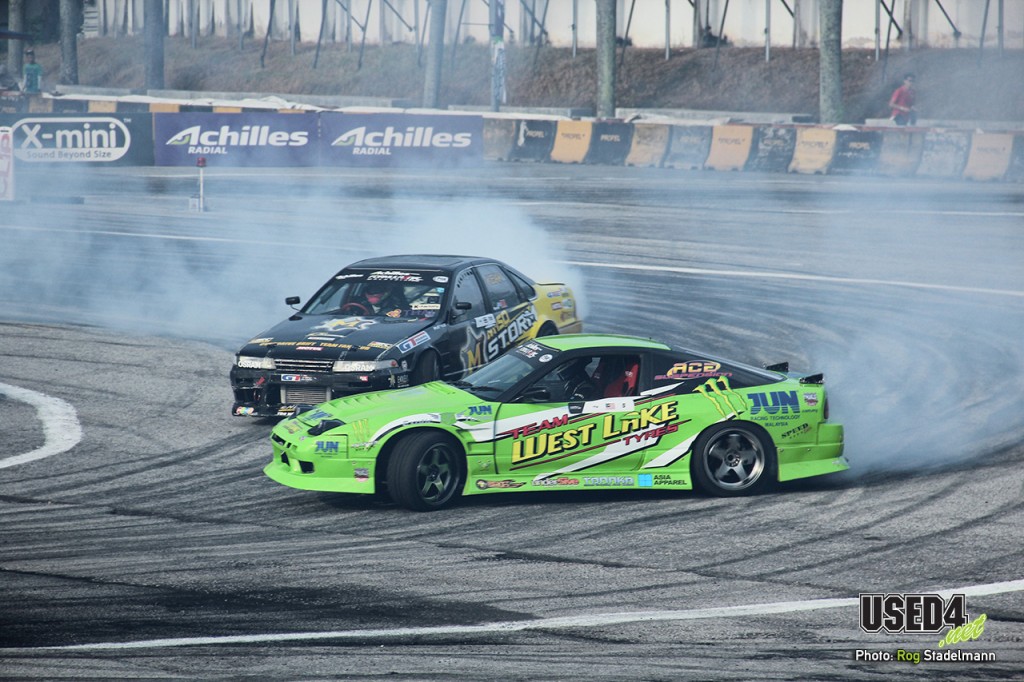 Die Fahrer boten wirklich ein Riesenspektakel für die Zuschauer und man spürte, dass die Jungs Freude an dem haben was sie machen. Es war definitiv eine gute Show, die sie abgeliefert haben. Respekt !
All drivers gave a really awesome performance and show. You can really see that the guys love what they do !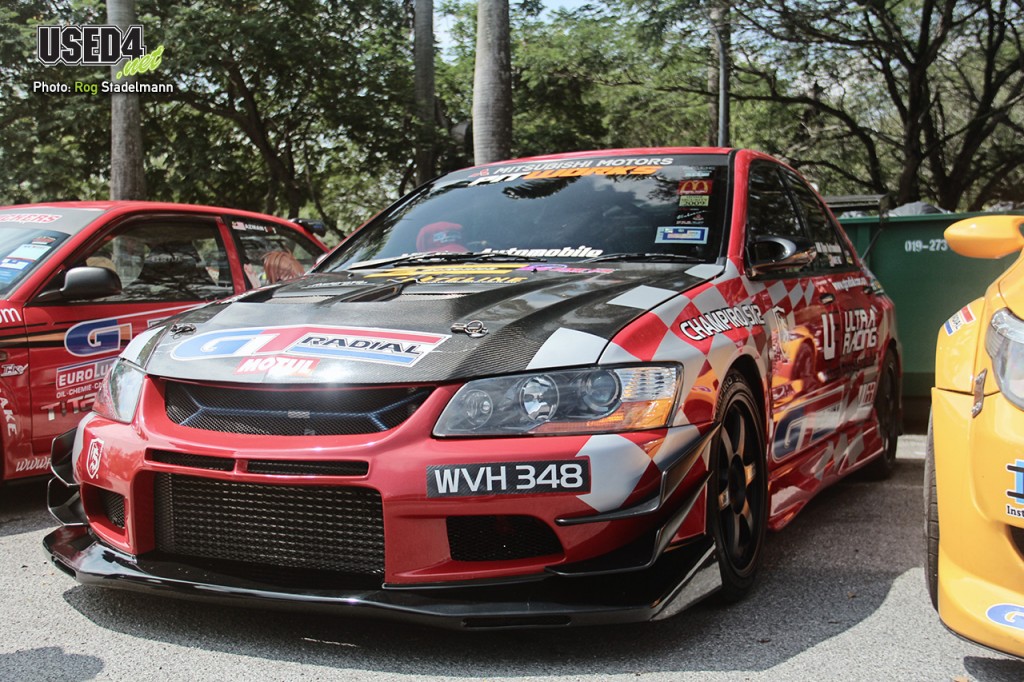 Diesen Evo habe ich auf dem Besucherparkplatz entdeckt, neben einer M5 und einer S15.
I discovered this Evo on the visitors parking next to an M5 and a S15 Silvia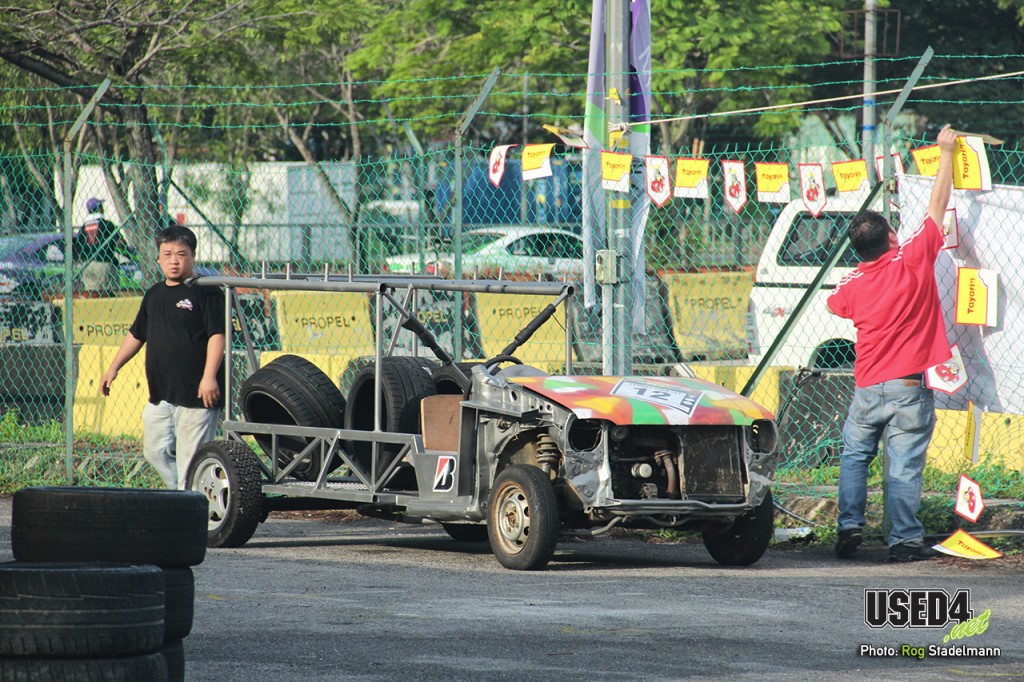 Der Reifentransporter gefiel mir besonders gut. Es "war" mal ein "Perodua Kancil", ein malaiischer Kleinwagen.
I really liked this Tyre Transporter. I think it used to be a Perodua Kancil , a malaysian compact car.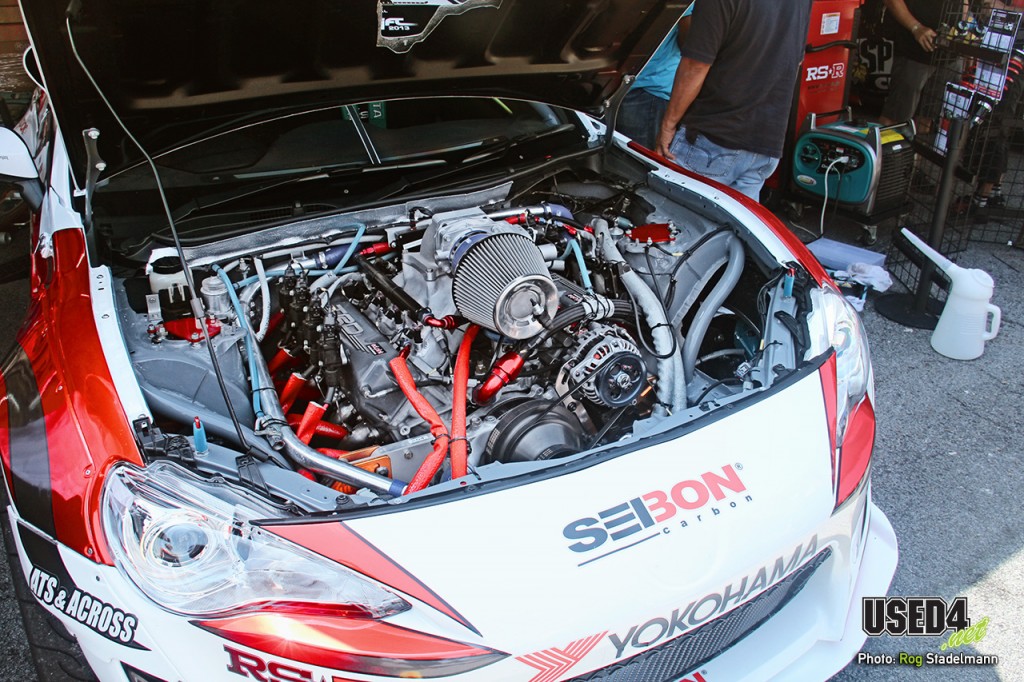 Alles in Allem war es sein sehr spannnender Tag, mit einem sehr überraschendem Endresultat. Ich persönlich hätte erwartet, dass Tengku Djan Ley "Prince Of Drift" den ersten Platz erklimmt, da SpeedCity seine eigene Rennstrecke ist und er demzufolge absoluten Heimvorteil gehabt hätte. Ausserdem machte sein 700SX (180sx mit Hemi V8) eine sehr eindrucksvolle Performance im Training sowie im Qualifying. Auch Daigo legte eindrucksvolle Drifts hin. Doch im Laufe des Tages begann es zu regnen, was natürlich alles komplett durcheinanderwarf.
Den Ersten Platz belegte Kerdpiam, Zweiter wurde "Turbo" Tom Monkhouse und den dritten Platz auf dem Treppchen errang Ken Gushi.
Ich möchte mich an dieser Stelle an die Organisatoren (Cohn&Wolfe und Fox Sports Management) wenden und mich ganz herzlich bedanken für die erstklassige Organisation dieses Events. Ganz speziellen Dank auch an meine Verlobte, die trotz der extremen Hitze nicht von meiner Seite gewichen ist und mir stets mitgeholfen hat. Aber jetzt weiss sie auch was ich durchmachen muss, wenn sie mich zum Shoppen mitnimmt !
All in all, a very interesting and exciting day with a very surprising result. I personally would have expected Tengku Djan Ley , " Prince of drift" and at the same time my favourite driver, to claim first place as Speedcity is his own home turf and therefore advantage somehow. His 700SX (180SX equipped with Hemi V8) made a great impression and performance in the training as well in the qualifying. Daigo was impressive as well. But i guess the rain really shuffled the cards new for all drivers. Malaysian weather is truly unpredictable. The first place goes to Kerdpiam, the second is Turbo Tom Monkhouse and the third, Ken Gushi.
I would like to thank the organizers Cohn&Wolfe and Fox Sports Management for this very well managed Event. And special thanks to my fiancee who was always helping me out during this extremely hot day. But now she knows what it's like for me to go shoe shopping !

Text und Bilder von Rog Stadelmann – USED4.net
Comments
comments
Powered by Facebook Comments