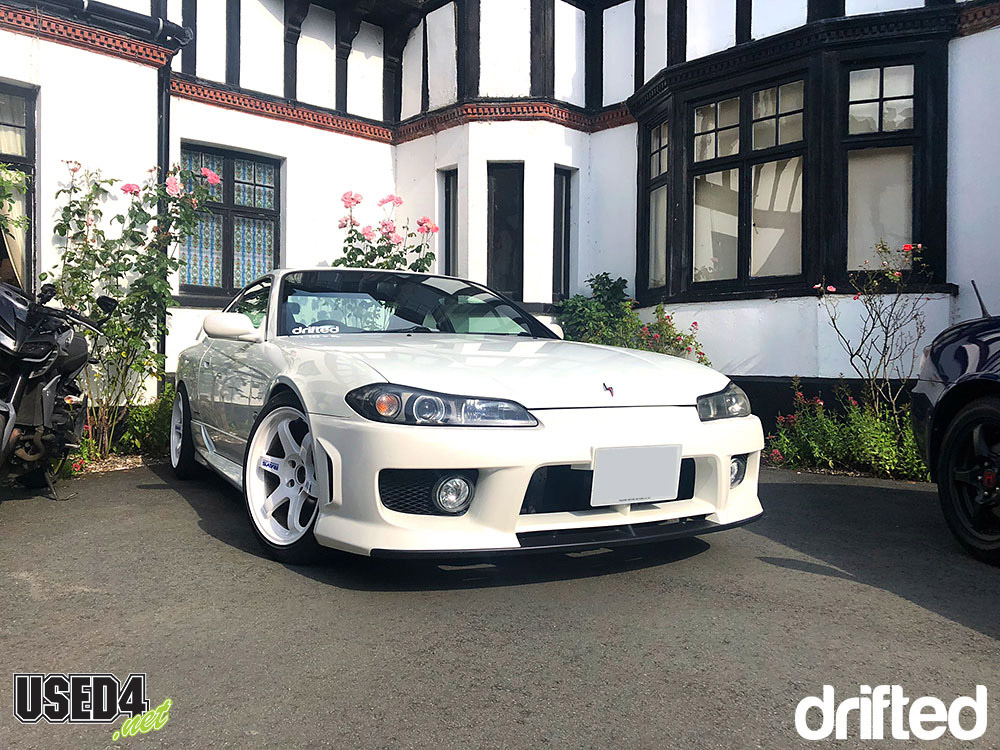 Okt

15
Tags
Verwandte Artikel
Share
Drifted.com – S15 Silvia Spec-R
Hi there 👋. My name is Joe Terrell and I am the founder of drifted.com. Used4.net has very kindly invited me to share my road car with you, a 1999 Nissan Silvia Spec R.
Hi. Mein Name ist Joe Terrel und ich bin der Gründer und Betreiber von drifted.com. Used4.net war so freundlich, mir zu erlauben, euch hier meinen Daily Driver, eine 1999er Nissan Silva S15 Spec R, vorzustellen.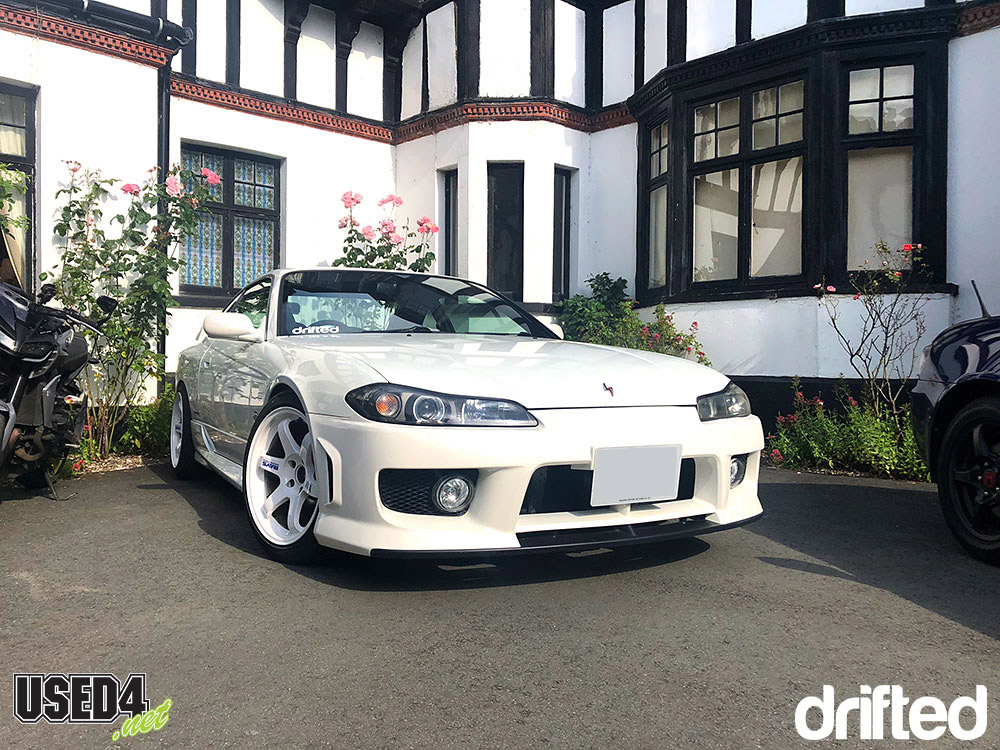 Although my business is in the drifting niche, I like to keep my main car user friendly and comfortable. Although with that said, I do like to push my cars. Grip track days and fast road adventures are some of my favourite ways to spend time.
Auch wenn mein Tagesgeschäft im Drifting liegt, lege ich Wert darauf mein Alltagsauto benutzerfreundlich und komfortabel zu halten. Was nicht bedeutet, dass es nicht auch getreten wird. Track Days oder Landstraßenausfahrten gehören zu meinen liebsten Zeitvertreiben.
So how did I end up with an S15?
Let's wind the clock back to late 2016…
I had sold my NSX to fund my business and my wedding but I had been slowly saving up the pennies over a couple of years for another fun car.
Enter the S15.
Also wie kam es zur S15?
Wir schreiben das Ende des Jahres 2016.
Ich hatte gerade den NSX verkauft, um mein Unternehmen und meine Hochzeit zu bezahlen, habe aber auch über die Jahre den ein oder anderen Penny zurückgelegt, um mir wieder ein Spaßauto zu kaufen.
Bühne frei für die S15.
I picked the car up back in November 2016 as a birthday present to myself. I had wanted an S15 for a long time, having owned many JDM cars in the past, including several S13's and an S14. I always saw the S15 as the one to lust for.
Ich machte mir im November 2016 das Auto zum Geburtstagsgeschenk. Ich wollte schon lange eine S15. Davor besaß ich schon einige JDM-Autos, unter anderem auch einige S13 und S14. Aber die S15 blieb immer ein Traum.
With the cash burning a hole in my pocket I drove up to London to scoop up this fresh import.
Mit meinem gesparten Geld in der Tasche fuhr ich also nach London, um mir den frischen Import zu schnappen.
The car had only been in the country a month before I got my hands on it. Do you see that oh-so-nineties JDM head unit?
Das Auto war erst seit einem Monat in England, als ich es in meine Finger bekam. Seht ihr das oh-so-90s JDM Radio?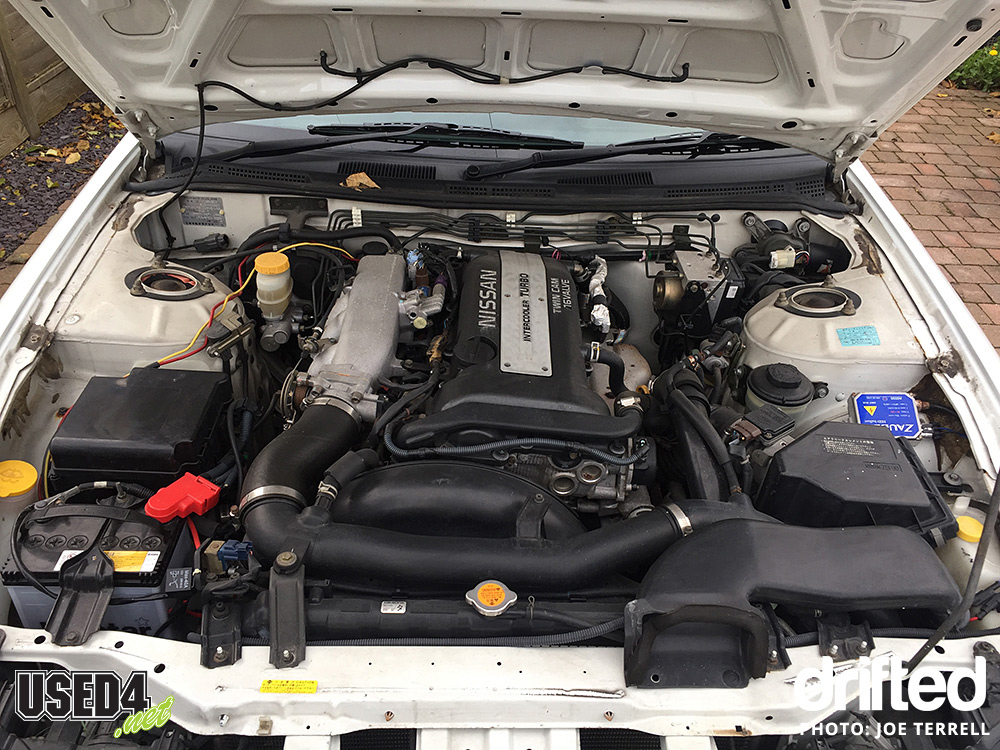 The spec was pretty much stock and unmolested, just a few bolt-ons, lowering springs, ugly rear lights and some WORK wheels.
This car was intended as my daily driver so style and reliability were more critical to me rather than outright performance.
Die Spec-Liste war quasi nicht vorhanden und das Auto, bis auf ein paar Bolt-Ons, unberührt. Selbige waren Federn, hässliche Rücklichter und WORK-Felgen.
Da der Wagen als mein Daily Driver dienen soll, standen Style und Zuverlässigkeit im Vordergrund. Performance war mir vorerst nicht so wichtig.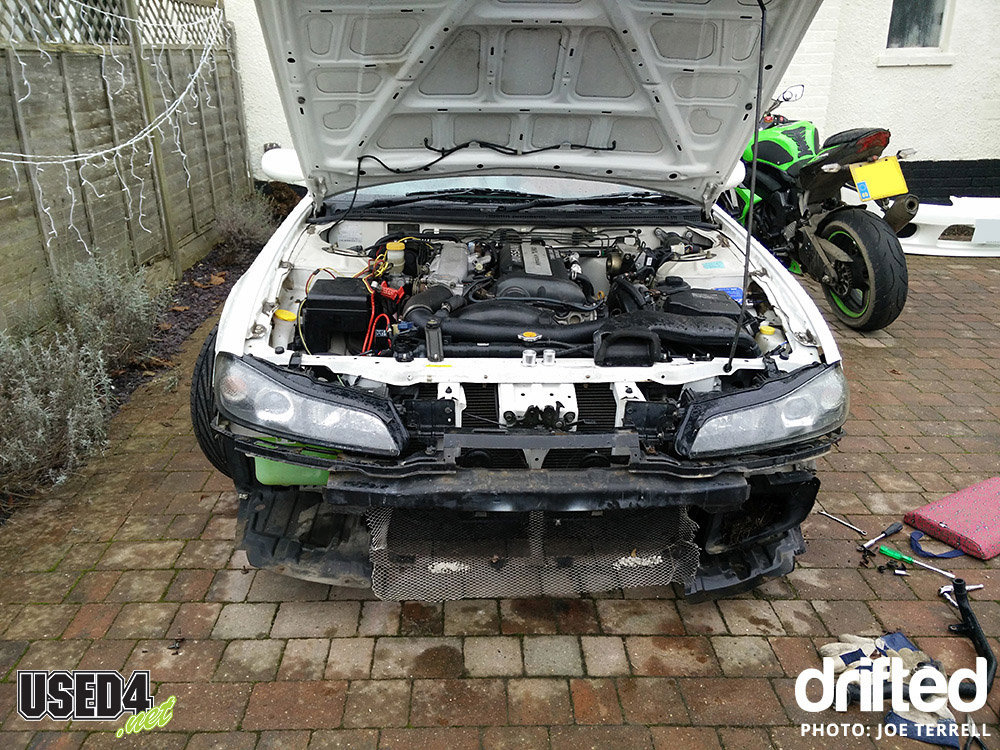 The first item on my list was to replace the regular bumper with a legit aero bumper, matching the rest of the body kit. Man, these things are expensive!
Die erste Modifikation auf meiner Liste war eine OEM-Aero-Frontschürze, um die Front passend zum Rest des Bodykits zu machen. Alter sind die Dinger teuer!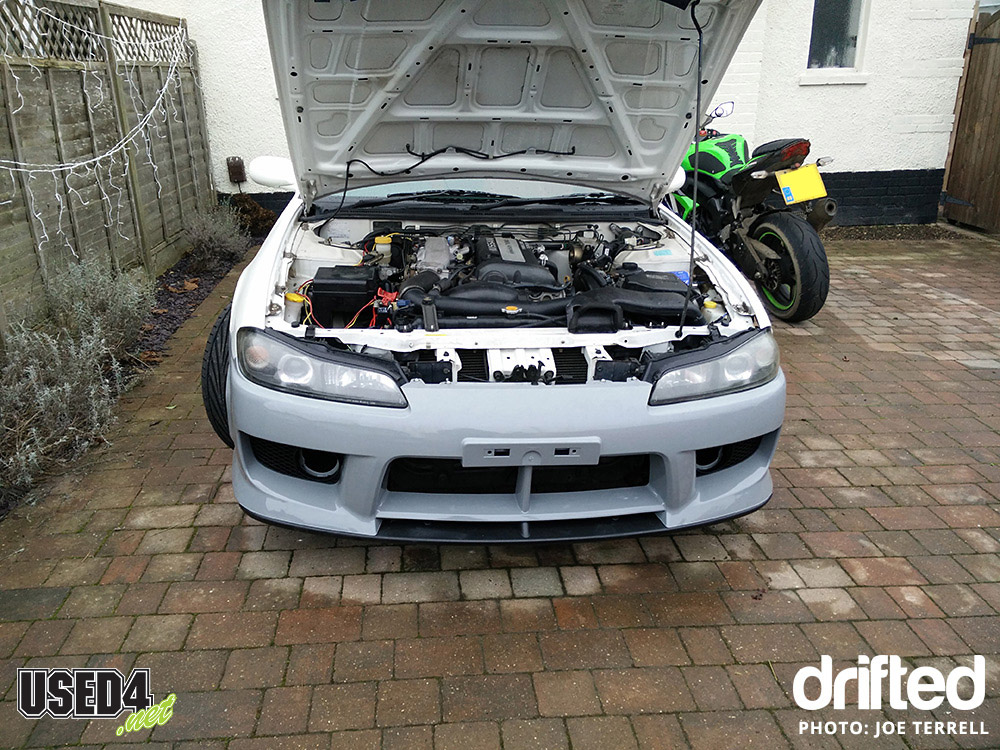 They are a pain to fit, one of these retaining screws stretches the entire height of the bumper…
Es ist ein ziemlicher Krampf die Schürze zu montieren, eine der Befestigungsschrauben geht durch die komplette Höhe der Stoßstange…
But the finished result was so worth it 😍
Aber das Ergebnis war es absolut wert.
Next up, was changing the rear lights for 50/50 DMAX units and replacing the MOMO steering wheel with the Nardi from my old NSX. What a difference those rear lights make.
Als Nächstes wurden die Rücklichter durch welche von DMAX ersetzt und das MOMO Lenkrad musste dem Nardi aus meinem alten NSX weichen. Was für einen Unterschied die Rüllis machen.
With those jobs and a spark plug and oil service change, it was time to enjoy the car. My close friends and I planned a driving holiday in the mountainous Brecon Beacons region of South Wales.
Nach den Maßnahmen und einem kleinen Ölservice samt Zündkerzen, war es an der Zeit das Auto zu genießen. Also unternahmen ein paar Freunde und ich einen Urlaubstrip in die Bergregion Brecon Beacons in Süd Wales.
In our convoy was a 300zx, 200sx S13, my S15 and a sports bike. A decidedly Nissan affair 🙂
Unser Konvoi bestand aus einem 300ZX Z32, einer S13, meiner S15 und einem Motorrad. Eine ausgesprochen Nissan-lastige Angelegenheit.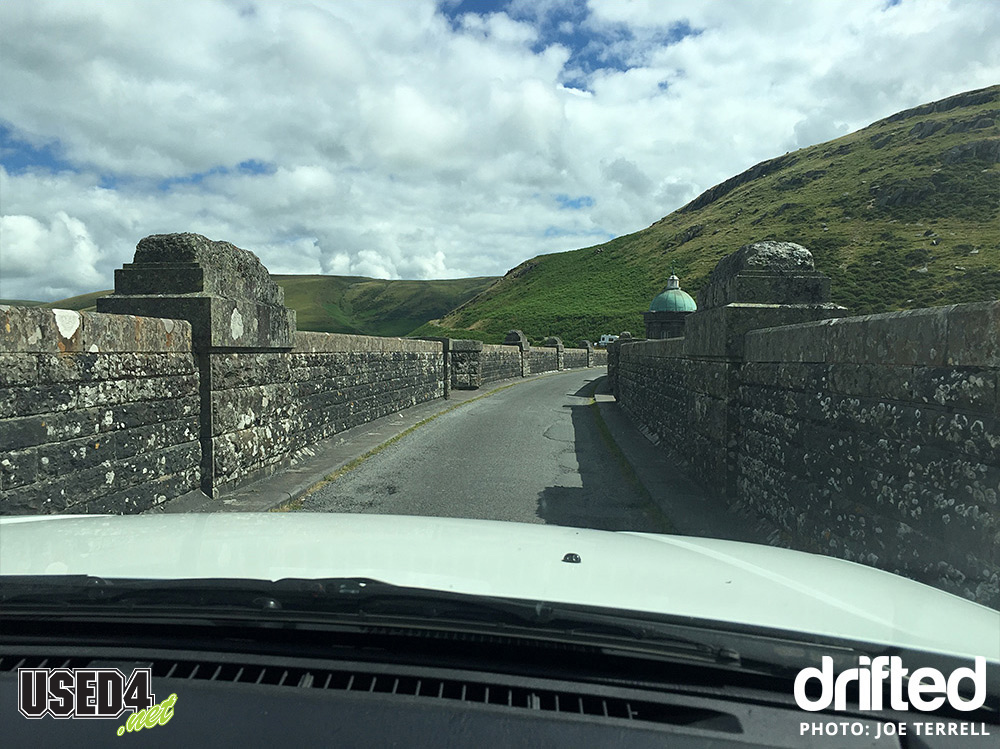 We built our trip around three exciting routes; the Black Mountain Pass, Elan Valley and a pass through the Devil's Bridge.
Wir planten unsere Strecke über die drei spannendsten Routen, den Black Mountain Pass, Elan Valley und eine Pass durch die Devil's Bridge.
All three routes held their own exciting driving experiences, my favourite being the Elan Valley.
Alle drei Strecken hatten ihre eigenen Vorzüge, wobei Elan Valley sich als mein Favorit herausstellte.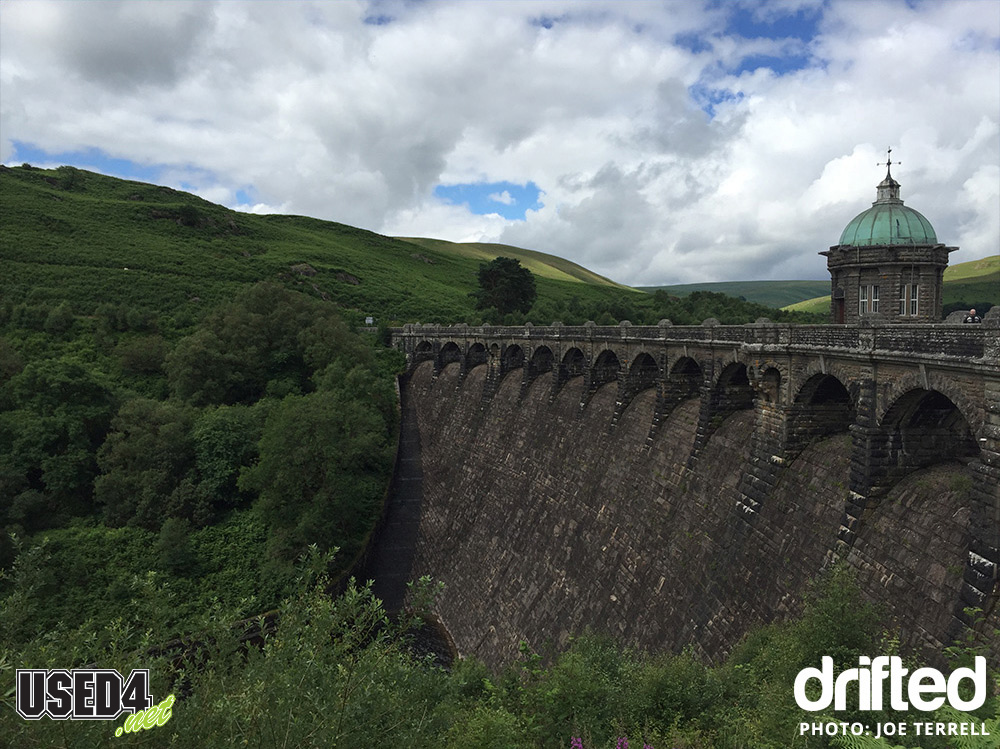 The scenery is stunning and the roads are perfect for cars of this power level.
Die Landschaft ist beeindruckend und die Straßen perfekt für das Leistungsniveau der Autos.
Fast response and nimble handling is key to safely enjoying a sports car on these roads.
Schnelles Ansprechverhalten und ein direktes Handling sind der Schlüssel um auf sichere Weise Spaß auf solchen Straßen zu haben.
At one stage we took a "short cut" which ended up being such a versatile route, our S13 was three-wheeling up the slopes! Check out the 90-degree bend on the sat-nav.
Such excellent driving roads attract many car and motorcycle enthusiasts, we saw another JDM group and a large gathering of V8 Audi Estate cars.
I have to give kudos to a MK4 Supra with a giant wing that the driver was trying to hustle down the chained hairpins of Black Mountain Pass. He was clearly working very hard to manoeuvre that heavy beast.
Auf einem Streckenabschnitt nahmen wir eine "Abkürzung" die zunehmend schwieriger zu fahren wurde. Unsere S13 fuhr um viele Abhänge auf drei Rädern!
Solch exzellente Straßen ziehen selbstverständlich viele Auto- und Motorrad-Enthusiasten an. Uns begegneten eine weitere Gruppe mit JDM-Fahrzeugen und eine größere Zusammenrottung von Audi V8 Kombis.
Meine Kudos an den Fahrer einer MK4 Supra mit Riesenflügel, der sich alle Mühe gab die Verkettung von Haarnadelkurven am Black Mountain Pass runterzuballern. Das schwere Biest dort hinunter zu manövrieren sah nach Schwerstarbeit aus.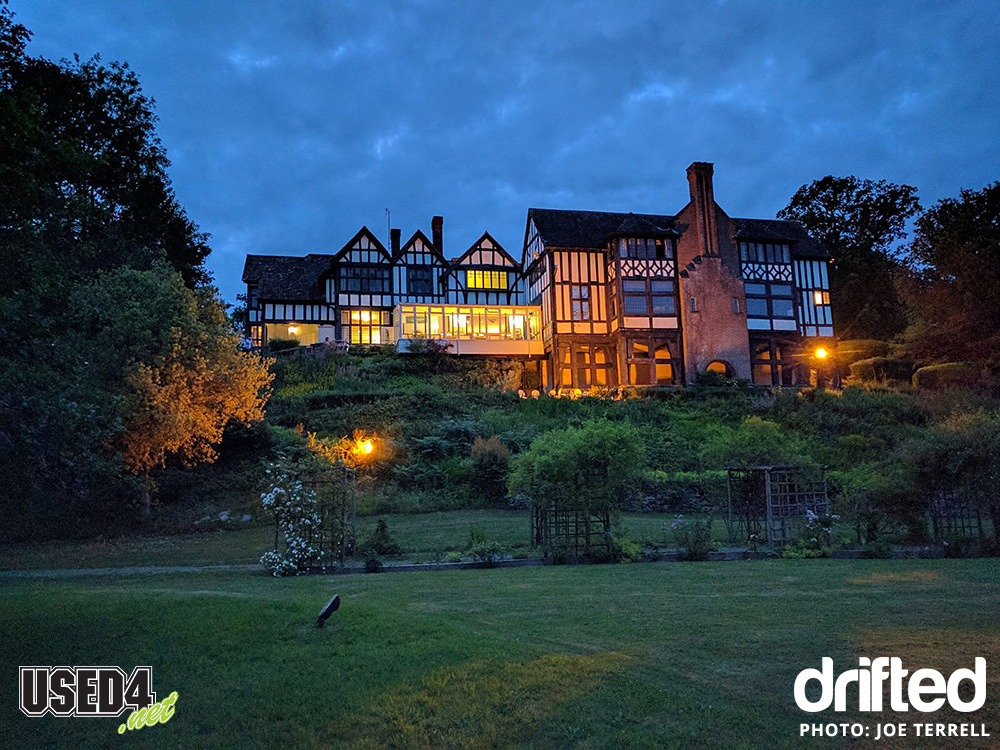 After a blissful day of driving, we retired to this luxury hotel to enjoy drinks and dinner in the fabulous gardens.
Am Ende eines herrlichen Tages. ließen wir uns in diesem Luxushotel nieder um zu essen und ein paar Drinks in den bombastischen Gärten zu uns zu nehmen.
One car that really caught my eye on the trip was my friends Z32 300zx. This car looked striking, it sounded amazing and it went very well for a naturally aspirated car. Best of all the roof came off – cool!
After this successful trip, I found some shortcomings of my near-stock Silvia. These included the lowering springs on stock dampers, the standard seats and the engine power.
Let's see what we can do about these issues…
I hope you have enjoyed reading the first instalment of my S15 and if Used4.net is happy to host another article I will happily keep you updated with the car.
Editor's note: Yes we are plenty happy to do so =)
Here is a preview:
Das Auto was mich am nachhaltigsten beeindruckt hat auf unserem Trip war der Z32 300ZX meines Freundes. Der Wagen sah cool aus, klang geil und ging wirklich gut für einen Saugmotor. Und das Beste – Das Dach kam ab – cool!
Trotz des erfolgreichen Trips waren die nächsten Upgrades meiner fast-Serien-S15 klar. Die Tieferlegungsfedern auf Seriendämpfern und die Seriensitze müssen gehen und auch an der Leistung kann sich noch was tun.
Mal sehen was sich da machen lässt.
Ich hoffe euch hat der Auftakt meiner S15 Geschichte gefallen und wenn Used4.net das auch so sieht bin ich gerne bereit euch auf dem laufenden zu halten.
Redaktionelle Anmerkung: Ja sind wir =)
Ein kleiner Vorgeschmack:
Text und Bilder: Joe Terrell drifted.com
Übersetzung: