Gymkhana Grid Finals 2013
Zum wiederholten Male lud Monster Energy's Präzisions-Pilot Ken Block zum Gymkhana Event der Extraklasse.
Nachdem sich die zum Anfang des Jahres angemeldeten Fahrer in den vier Vorentscheidungsläufen des Monster Energy Gymkhana Grid : The European Gauntlet qualifizierten, fand man sich zum großen Finale auf dem Festivalgelände "Ciudad del Rock" außerhalb von Madrid wieder, um auf dem technisch anspruchsvollen Geschicklichkeitskurs sprichwörtlich Zeiten in den Asphalt zu brennen.
Neben den Wettkämpfen wurde dem Zuschauer ein buntes Potpourri in Form von Stunt-Einlagen des mehrfachen Guinness Weltrekord Halters Terry Grant geboten. Darüber hinaus begeisterten die Monster Energy Drifter Steve "Baggsy" Biagioni und Buttsy Butler mit geschickten Fahrmanövern und ließen keine Gelegenheit aus, um dem Publikum ordentlich einzuheizen !
–
Once again, Monster Energy's precision pilot, Ken Block, invited  to the first class Gymkhana Event.
After the registered drivers, which have been signed in early this  year, qualified in the 4 preliminary runs of the "Monster Energy Gymkhana Grid : The european gauntlet", we found ourselves on the festival site " Ciudad del Rock"  outside Madrid again, for the big finale, to literally burn laptimes into the tarmac of the sophisticated gymkhana course.
Besides the competition, the visitors were given a colorful mix of Stunts from the multiple Guiness World Record holder Terry Grant. On top of that, the Monster Energy drifters Steve "Baggsy" Biagioni and Buttsy Butler, thrilled the crowd with their skilled maneuvres and left no opportunity unused to excite the viewers!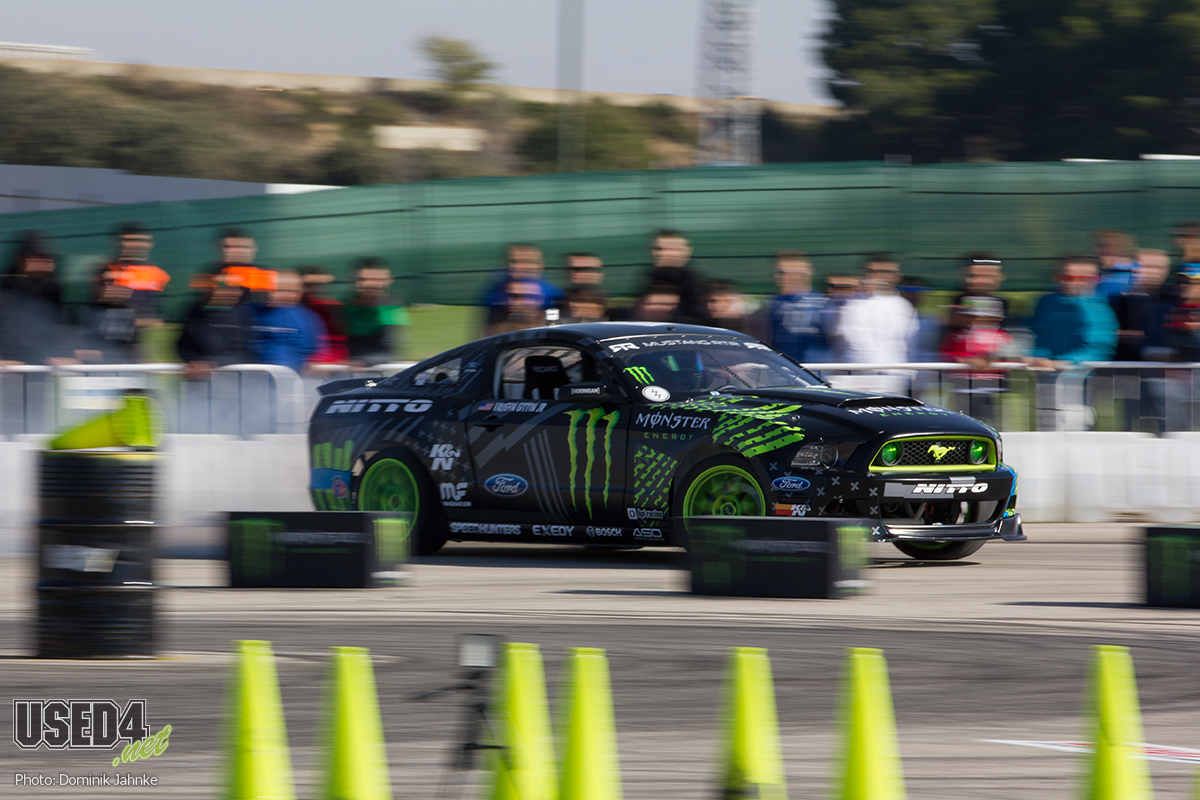 Neben Ken Block fanden sich weitere Monster Athleten wie Formula D Profi-Drifter Vaughn Gittin Jr. und mehrfacher X-Games Medaillen Gewinner Liam Doran in Madrid ein und ließen ordentlich die Reifen qualmen.
Besides Ken Block, other Monster athlets found their way to Madrid, such as Formula D Pro-Drifter Vaughn Gittin Jr. and multiple X-Games medalist Liam Doran and did some serious tyre smoking.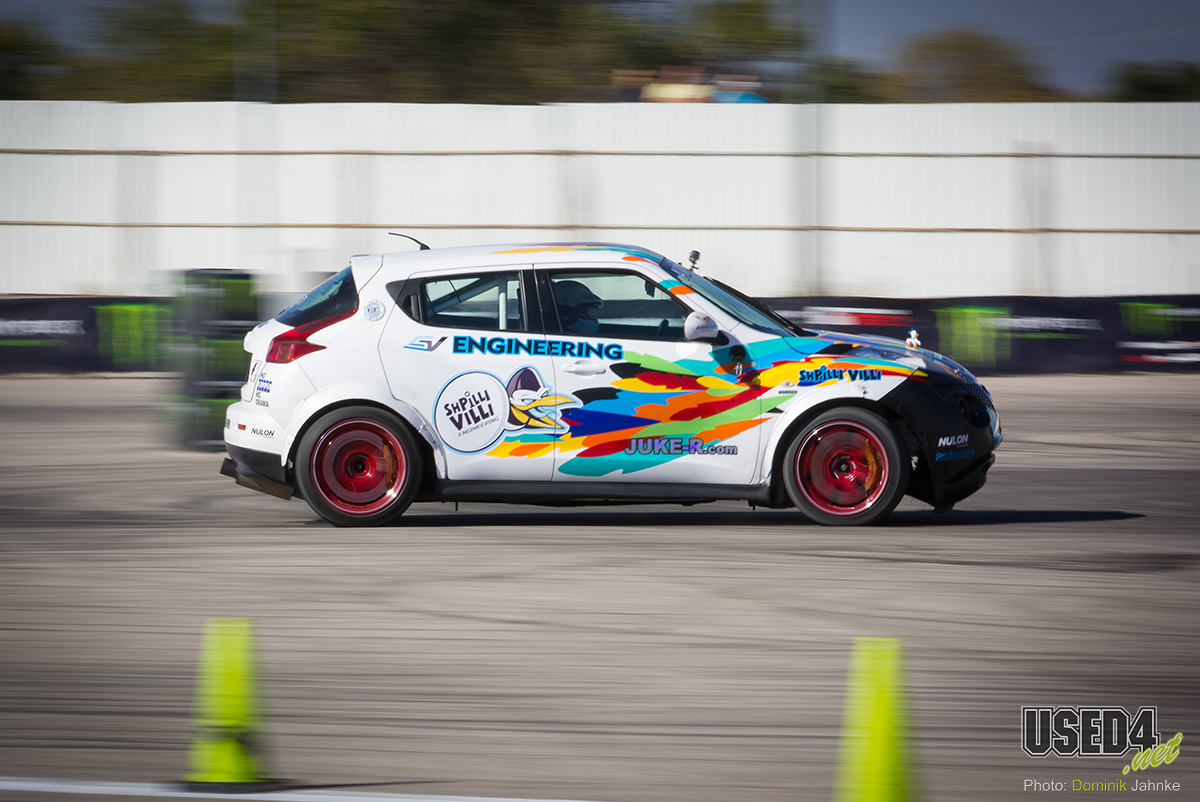 Der von Misha Charoudin pilotierte Nissan Juke-R beeindruckte mit wahnwitzigen Beschleunigungswerten, hatte jedoch speziell in den verwinkelten Bereichen des Kurses seine Schwierigkeiten. Wir hoffen, dass das russische Team im kommenden Jahr wieder mit von der Partie ist und ganz vorne mitmischen kann !
The Nissan Juke-R, which was being driven by Misha Charoudin, impressed us with mental accelerations, but did find difficulties in the winding sections of the course.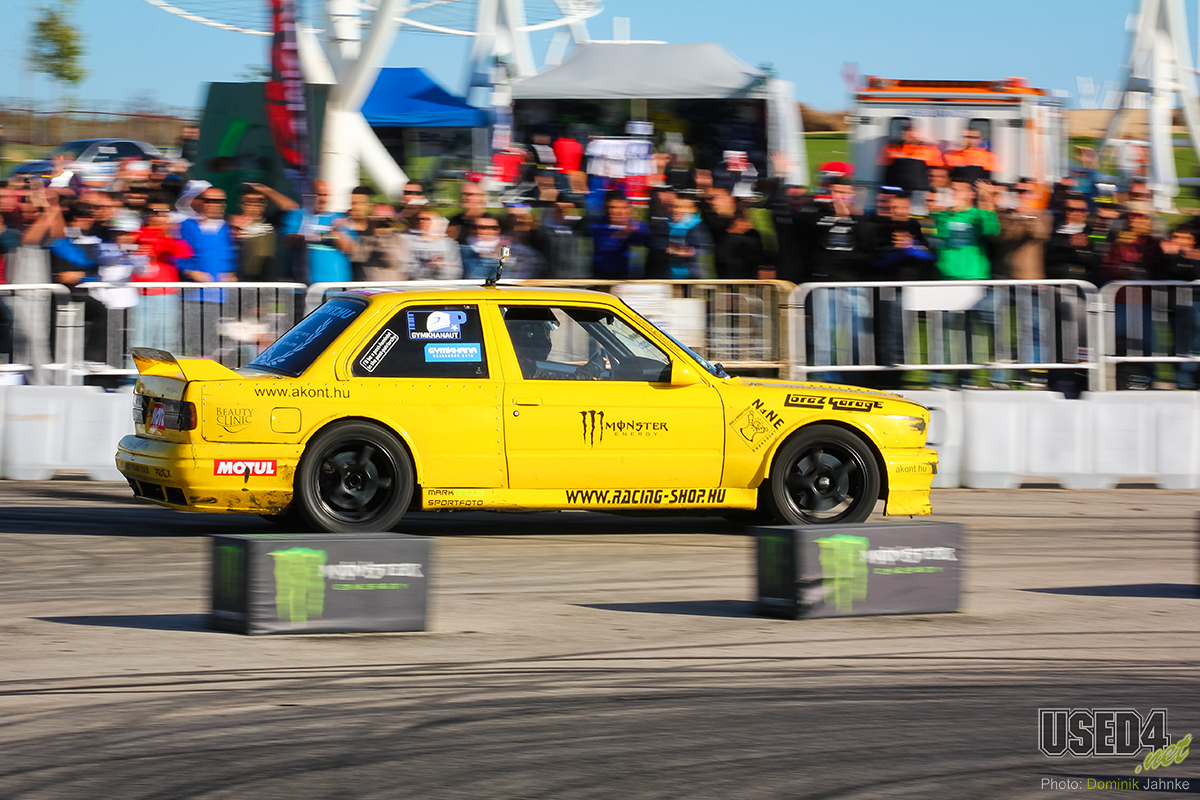 Publikumsliebling Nikolette Szanto lies sich von ihren männlichen Kollegen nicht unterkriegen und fuhr ihren BMW bis ins RWD-Finale, in dem die junge Ungarin auf den australischen Profi-Drifter Luke Fink traf.
Crowd pleaser Nikolette Szanto saw no signs of defeat from her male competition, and drove her BMW all the way to the RWD-Finals, in which the young Hungarian had to battle the Australian Pro-Drifter Luke Fink.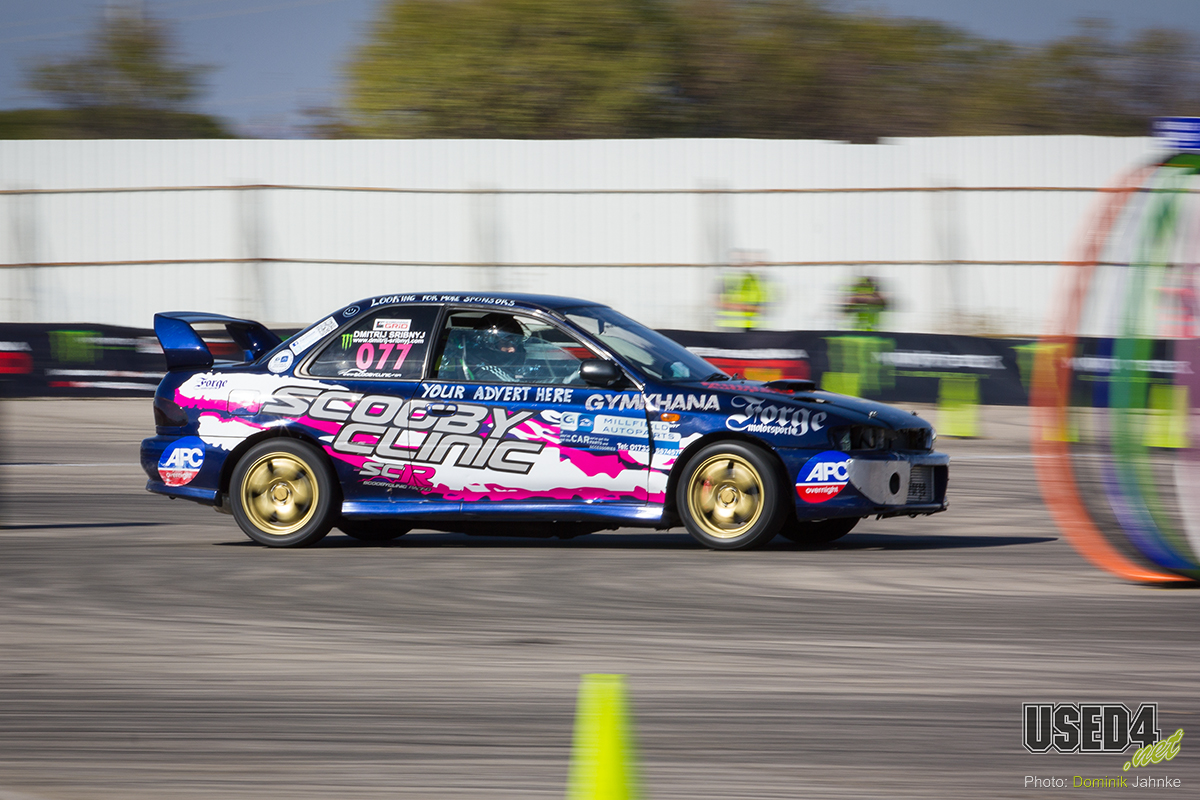 Dmitrij Sribnyi dominierte die AWD Klasse und fuhr mit einer konstanten Souveränität den Sieg nach Hause.
Dmitrij Sribnyi dominated the AWD-Class and drove with constant sovereignty to victory .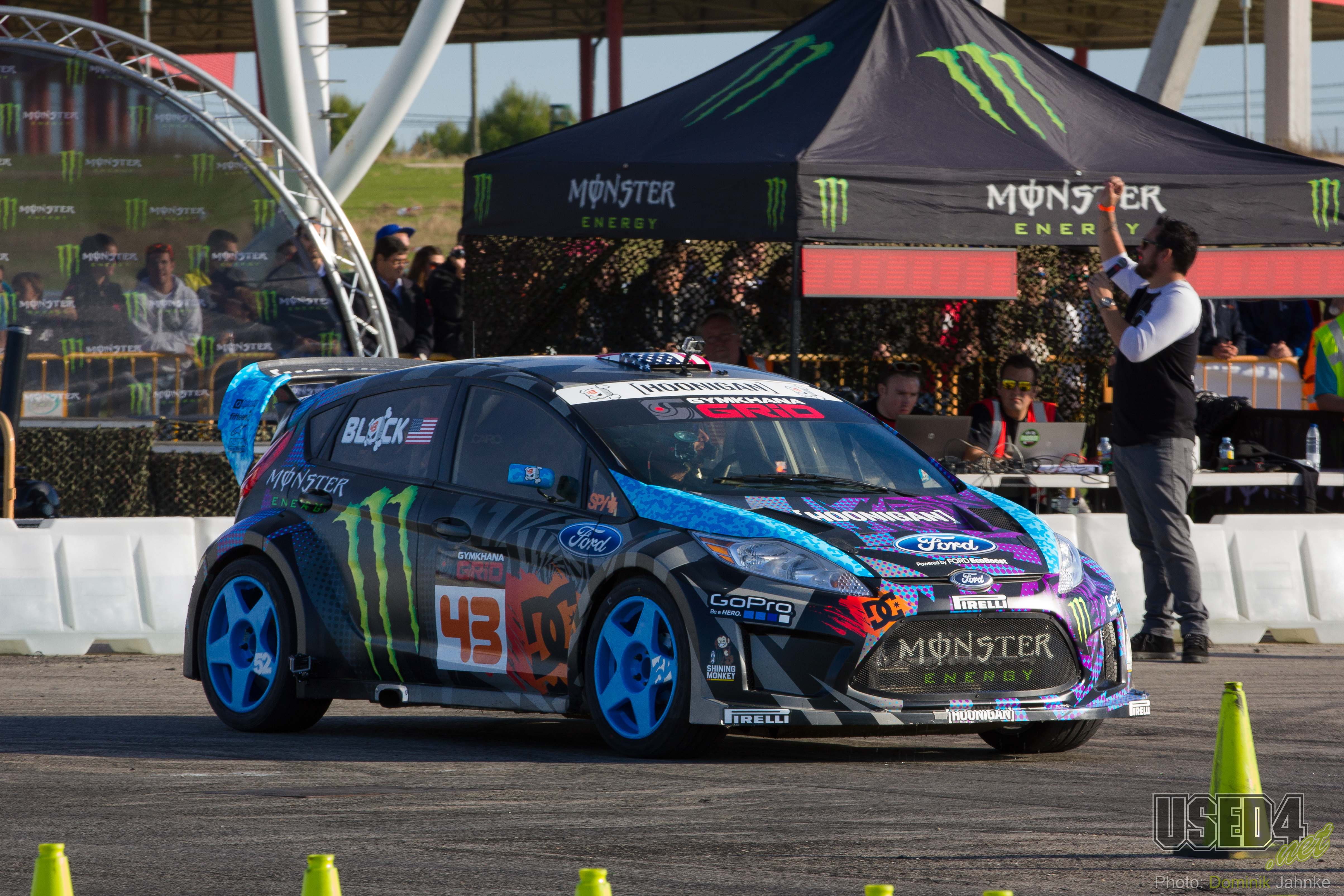 Neu in diesem Jahr war das sogenannten Super Car Race, bei dem  Gymkhana-Experte Ken Block,…
New this year, was the Super Car Race, in which Gymkhana Expert Ken Block,…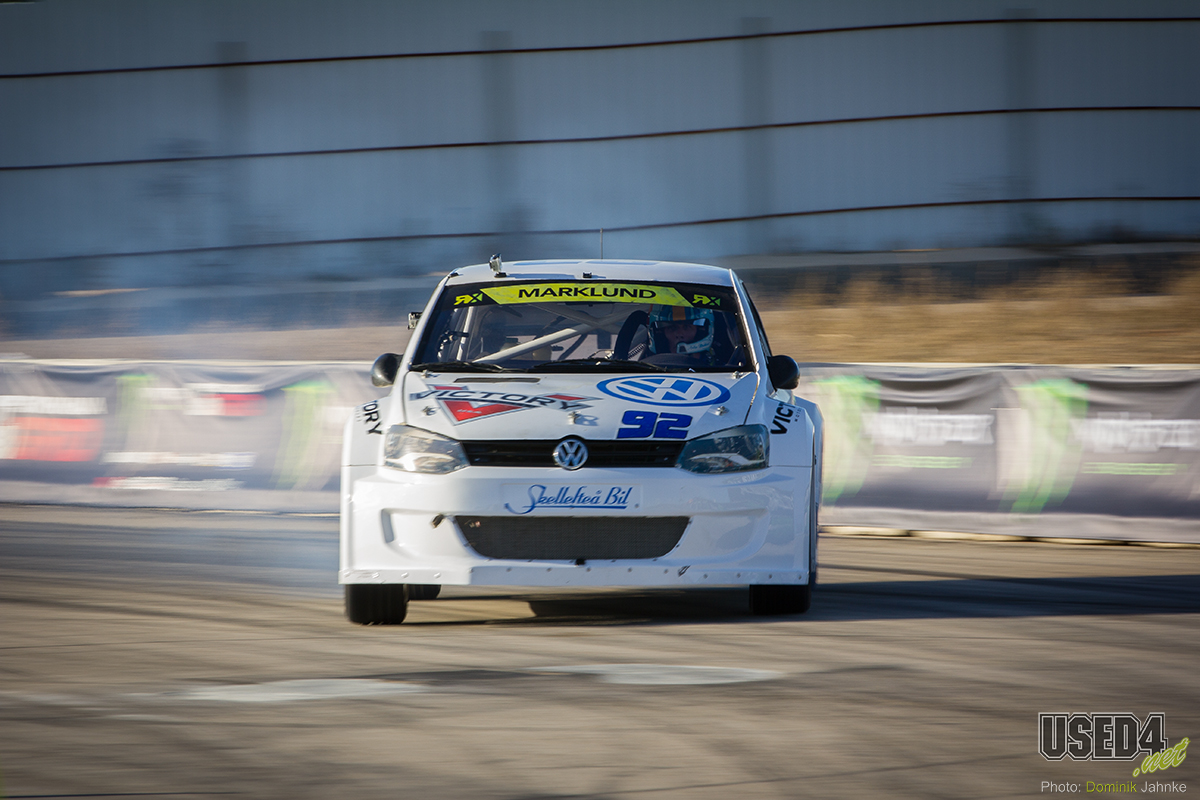 Rallycross Champion Anton Marklund,…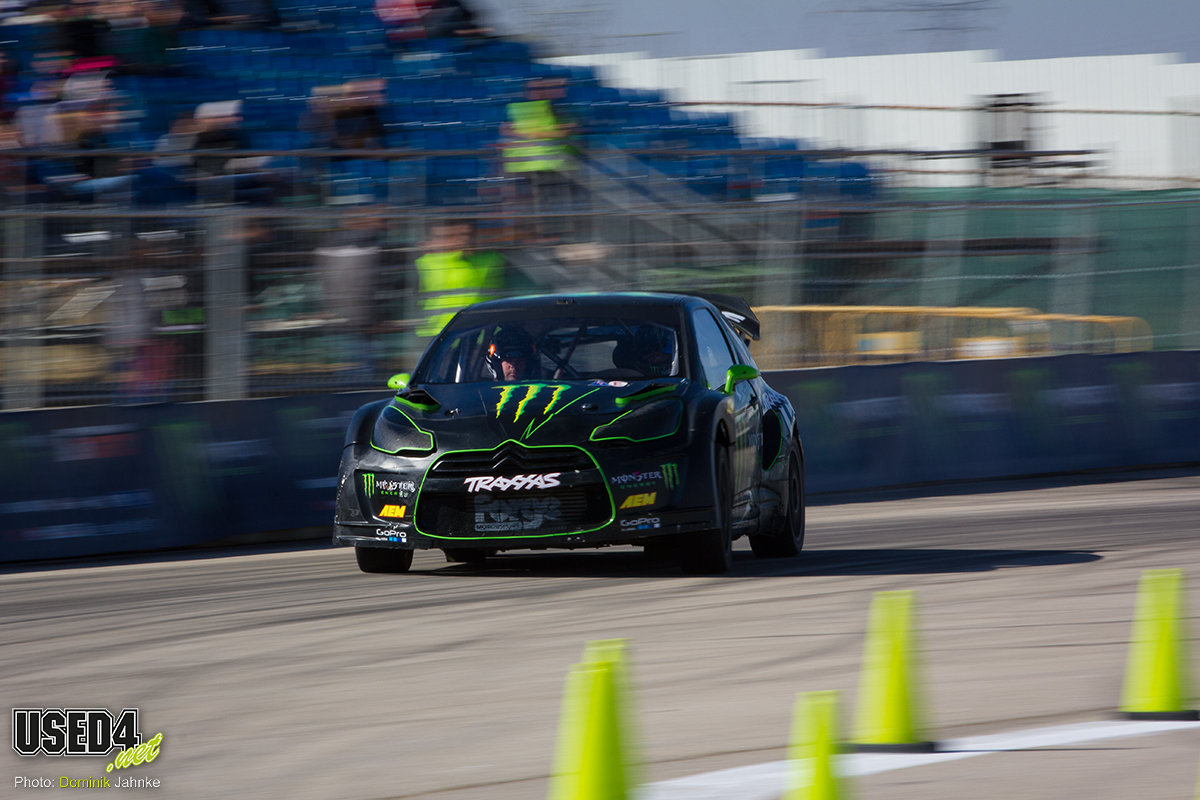 "British Bomb" Liam Doran und…
"British Bomb" Liam Doran and…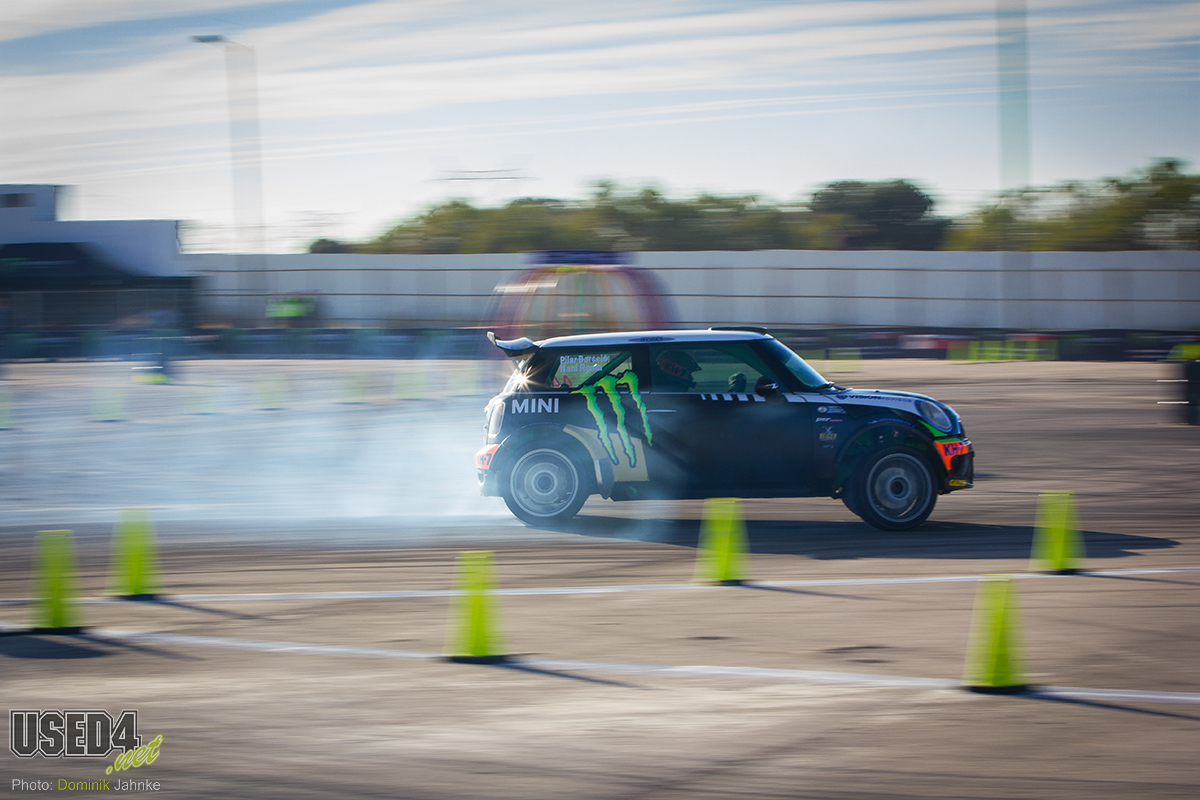 …Dakar-Veteran Nani Roma aufeinander trafen.
…Dakar-Veteran Nani Roma met and battled.
Im Finale wurde es ernst, als Nani Roma im Duell um den Titel auf Ken Block traf, der den allseits bekannten Ford Fiesta um die Kurven scheuchte. Block musste sich nach einem nicht aufholbaren Fehler in der ersten Runde geschlagen geben und dem Spanier Roma den Sieg überlassen. Das Publikum war nach Feststellung des Sieges ihres Landsmanns nicht mehr zu halten und feierte Roma mit gebührendem Applaus.
In the finals it became serious when Nani Roma met in a duel for the title against Ken block with the well-known Ford Fiesta which he chased around the curves. Block had to take a defeat and leave the victory to the  Spaniard Roma after a mistake which he could not make ​​up for in the first round. The audience was going bonkers after it became official about the victory of their local spanish driver Roma and celebrated with due applause.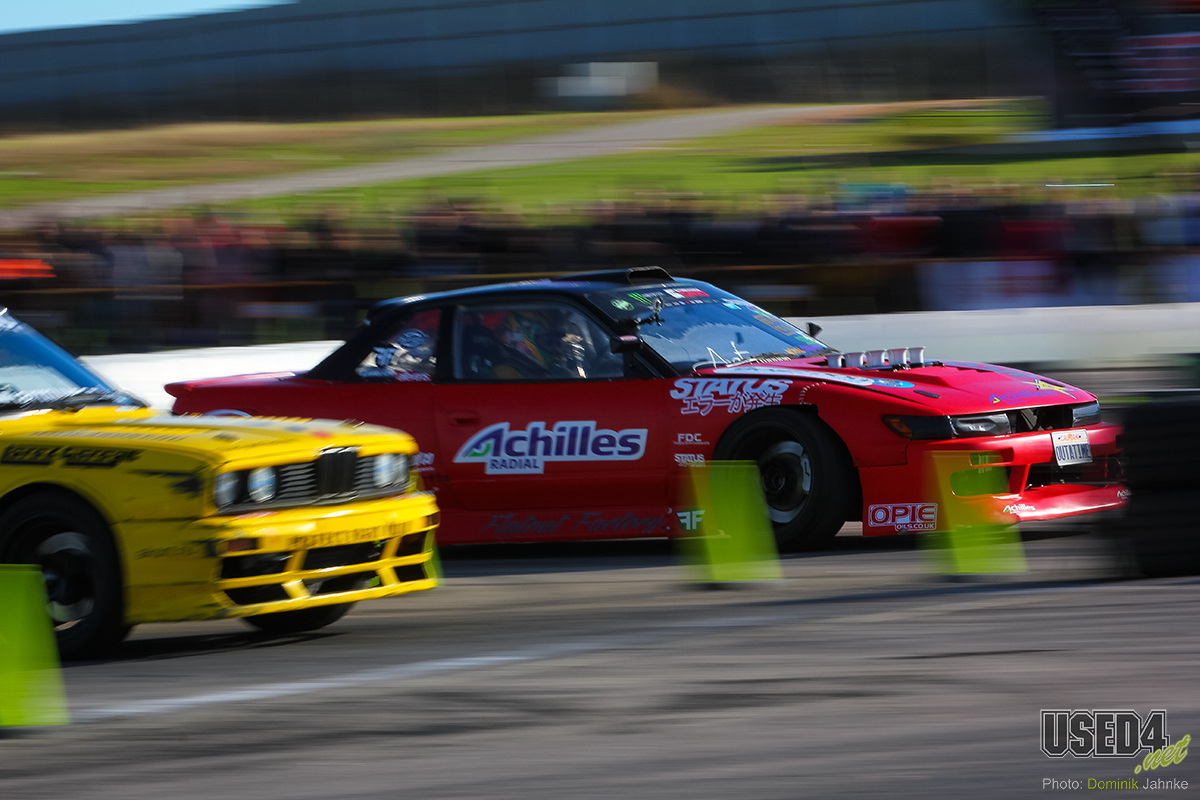 Im zuvor erwähnten Finallauf der RWD-Klasse standen sich nun also Luke Fink in der V8 befeuerten Low Brain Drifters PS13 und Nikolette Szanto auf ihrem BMW E30 gegenüber. Die Ungarin fackelte nicht lange und zwang Fink in die Verlängerung, die der Australier schlussendlich doch für sich entscheiden und damit das Finale gewinnen konnte.
The previously mentioned final run of the RWD-class came to the showdown where Luke Fink in his V8 powered Low Brain Drifters PS13 and Nikolette Szanto in her BMW E30 battled. The hungarian didn't hecitate and forced Fink into overtime, which the australian finally still dominated and therefore won the finale.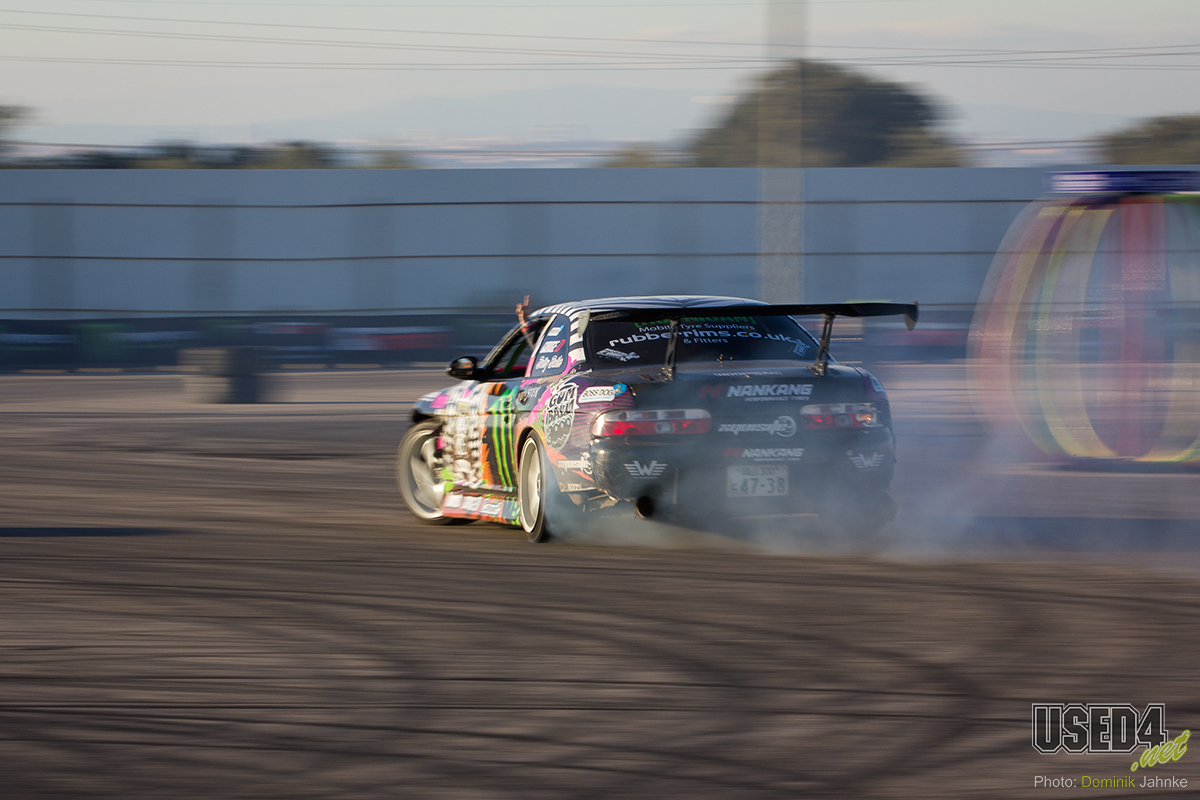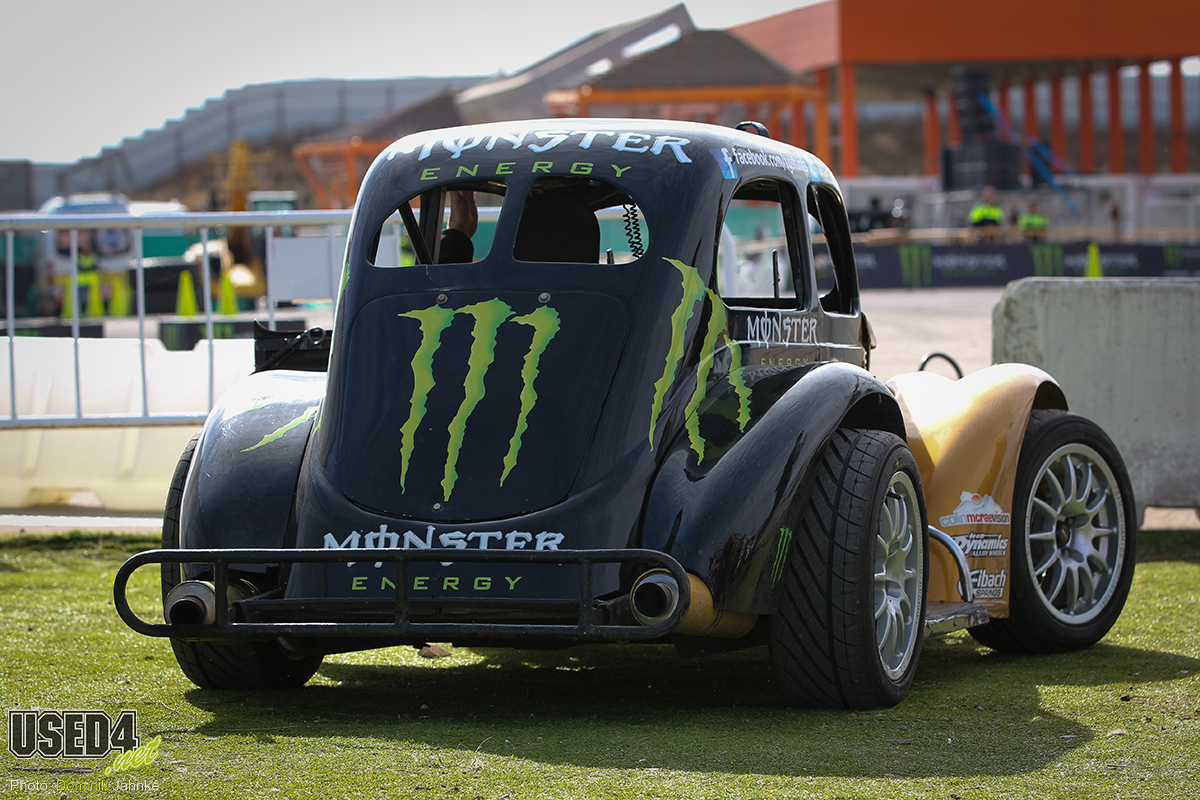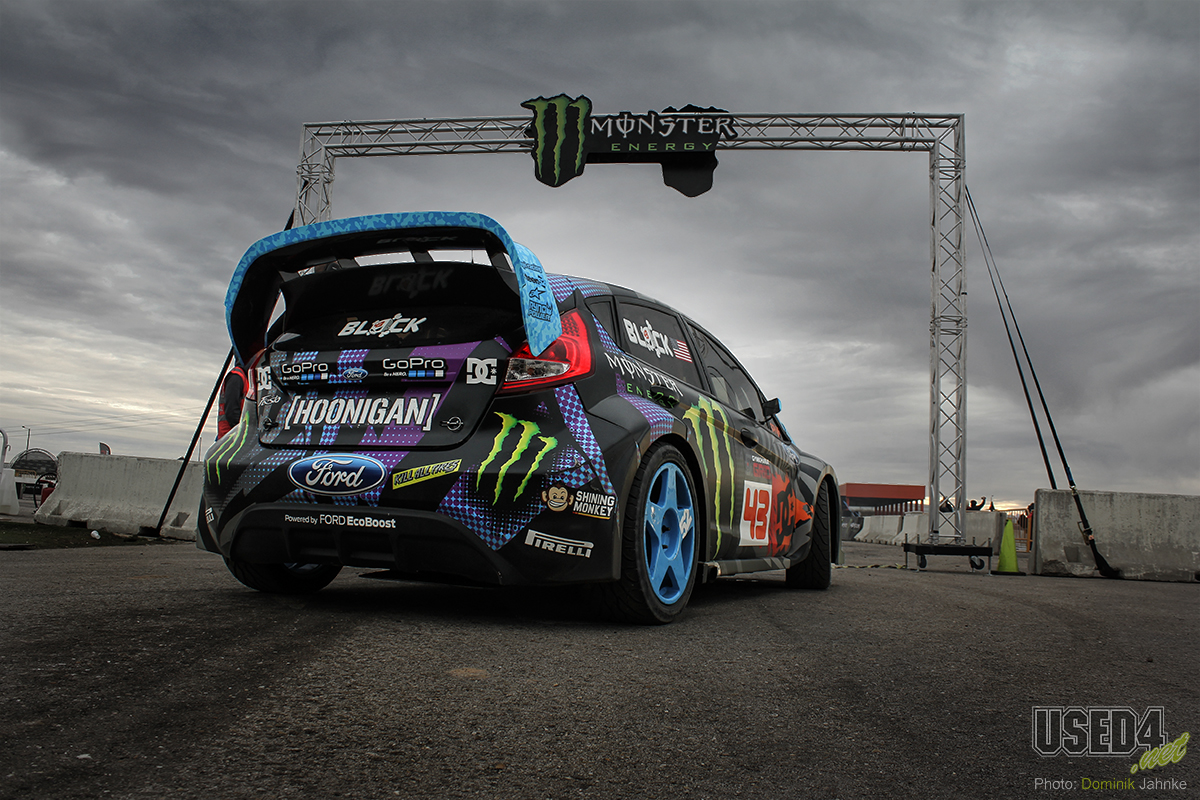 Wir blicken zurück auf ein actiongeladenes Wochenende und bedanken uns bei allen Beteiligten für dieses einzigartige Event !
Ein umfangreiches Fotoalbum findet ihr wie gewohnt auf unserer Facebook-Seite.
Were looking back at an action-packed weekend and are thanking all those involved for this unique event!
You can find the complete fotoalbum as usual on our Facebook Page.

Dominik Jahnke – USED4.net
Comments
comments
Powered by Facebook Comments