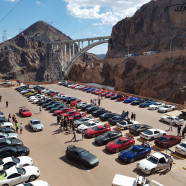 Oct

15
Tags
Related Posts
Share This
Supras in Vegas – Wie man sich einen Lebenstraum zwei Mal erfüllt (Teil 1)
Wie man sich einen Lebenstraum zwei Mal erfüllt – Supras in Vegas 2017 (Teil 1)
How to fullfil a Lifetime Dream – twice: Supras in Vegas 2017
Wer, wie ich, in den späten 80ern geboren ist, als 6Jähriger zum Fan des Supra wurde und Ende der 90er/Anfang der 2000er Jahre das Internet nach Supra-Input durchkämmte, der kam in dieser Zeit an den Redline-Videos nicht vorbei.
Anyone who has been born in the 80s, like I do, who became a fan of Toyota Supras at the age of 6 and who scoured the internet for Supra content, couldn't get pass the Redline videos.
Redline 3
Unzählige Male habe ich sie geschaut und mich als Jugendlicher in die Situation hineinversetzt, einmal in den Staaten der Supras wegen zu sein. Die nordamerikanische Supra-Szene ist etwas besonderes. Zum einen liegt es an den unheimlich sauberen und perfekten Autos, zum anderen am unheimlich guten Geschmack der Amerikaner, was Modifikationen angeht. Für mich war also klar: So unfassbar unrealistisch es auch immer für mich im Jugendalter und bis noch vor gar nicht so langer Zeit klang, aber einmal muss ich das größte Supratreffen der Welt besuchen: Supras in Vegas!
I watched these videos endless times in my teenage years and dreamed of driving a Supra in the States. The North-American scene is something truly special. It's not only the high quality and cleanliness of the cars, it's also the US-American great taste in modifying cars. It seemed unreachable as a teenage boy and even not too long ago, but the urge to visit the world's greatest Supra meet was huge: Supras in Vegas!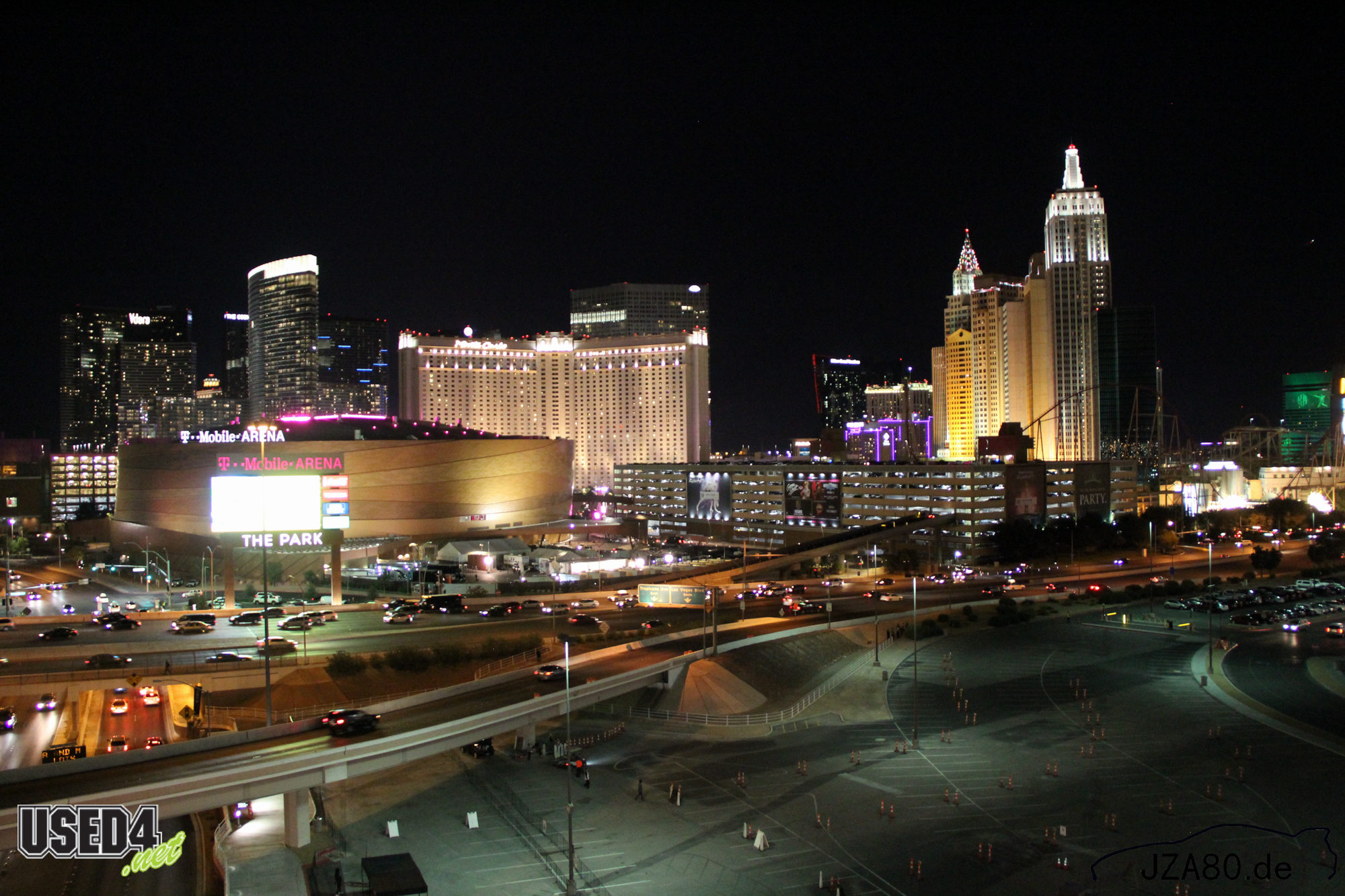 In den folgenden Jahren lernte ich jemanden kennen, der in großer räumlicher Entfernung eine erschreckend ähnliche Kindheit wie ich verlebt hat, was 90er Jahre Musikgeschmack, Videospiele und vor allem Autogeschmack betrifft. Auch er verfolgte das Ziel, einmal die US-Szene kennenzulernen. Wir wurden älter, wir verdienten Geld, kauften uns beide unsere Traumsupras und uns beiden wurde klar, dass man sich Lebensträume erfüllen muss, solange man die Möglichkeit dazu hat und vor allem gesund ist. So flogen wir 2016 in die USA mit dem Ziel, die amerikanische Supra-Szene beim berühmt berüchtigten Supras In Vegas Event kennenzulernen. Natürlich konnten wir keinem erzählen, dass wir nur wegen ein paar knapp 20 Jahre alten Toyotas in die Staaten fliegen, also haben wir dies mit einem 2wöchigen Kalifornien-Urlaub verbunden.
In the following years I got to meet someone living very distant from my place, nevertheless sharing the same biography when it comes to 90s taste in music, video games and of course, taste in cars. And he also dreamed the dream of one time meeting the US Supra scene. We became older, we earned our money, bought our dream Supras and both of us were certain that lifetime goals need to be achieved as long as you have the possibilities and especially the physical capabilities. Eventually we flew out to the US in 2016 with one aim in mind: Getting to know the US scene during the infamous Supras In Vegas event. Of course we couldn't explain to anyone we were flying out to the States only for the sake of seeing some 20 year old Toyotas, hence we combined it with a 2 week holiday in California.
Da in den USA bekannt war, dass wir anreisen, wurden wir "leider" mit offenen Armen empfangen und wir lernten innerhalb von 3 Tagen über 300 unheimlich nette Menschen kennen. Aus Fremden wurden Freunde und wir ein Teil der US-Szene. Schnell wurde uns aber auch klar: eine "once in a lifetime opportunity" bleibt das mit Sicherheit nicht, denn alle wollten, dass wir im darauffolgenden Jahr wiederkommen.
And the US was already waiting for us as we announced our trip loudly: The welcome was more than warm-hearted and we got to know some 300 people within only 3 days. Strangers became friends and we found ourself embraced by the US Scene. But one thing became clear pretty fast: This clearly won't stay an once in a life time opportunity, everyone obliged us to come back next year.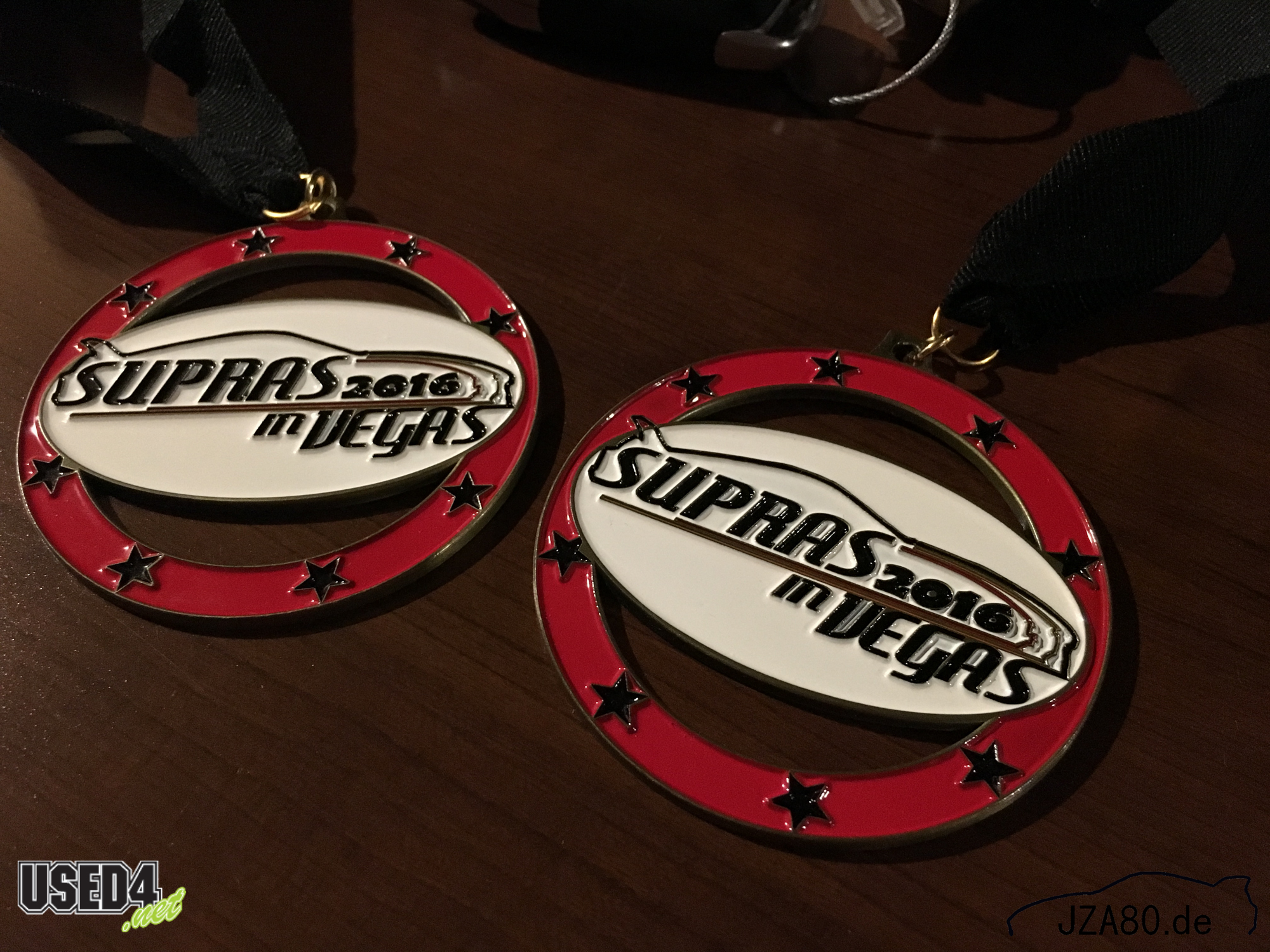 Auf Grund der nicht ganz geringen Kosten hatten wir das zunächst ausgeschlossen und auf eins der Folgejahre aufgeschoben. Als wir eines Abends Ende Mai in Bierlaune zusammen saßen, haben wir uns doch spontan dazu entschieden, bereits dieses Jahr zurückzukehren, auch dieses Mal wieder mit einem Urlaub verbunden. Pläne, die man betrunken schmiedet, sind eben immer die besten.
Due to the financial aspect we actually planned to redo this trip in of the years to follow. But while having some drinks in May 2017 we decided to come back already this very year and again combine it with a vacation. Drunk plans are always the best plans, right?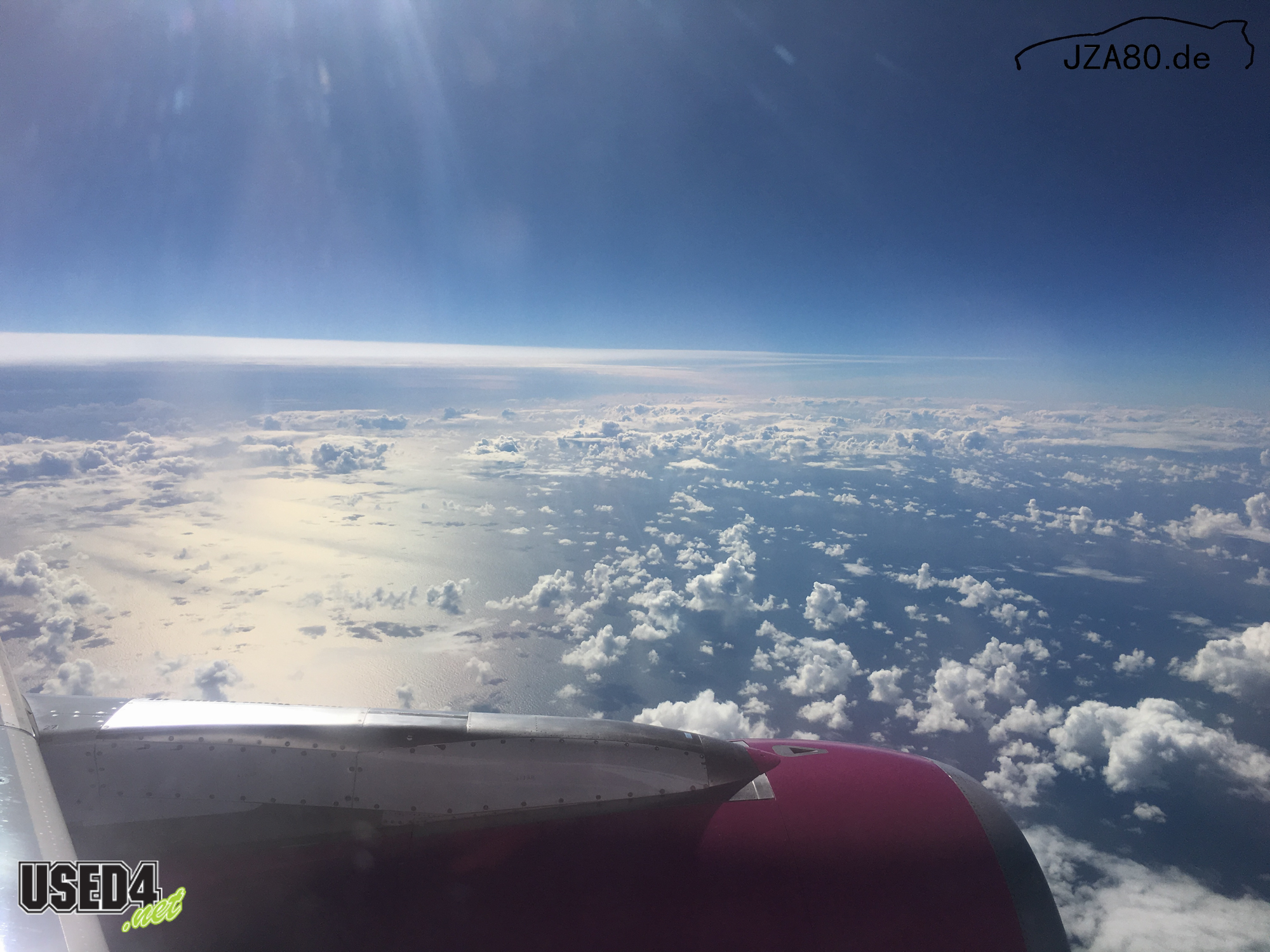 Nach unserem Flug nach Kalifornien am Samstag erfolgte die Anreise am Mittwoch Abend von Los Angeles aus in Richtung Las Vegas traditionell im Konvoi. Wir trafen uns mit einigen Freunden der Supraszene in L. A. und dann später etwas nördlich auf dem Weg nach Nevada. Ich denke, ich muss keinem erzählen, was es für ein Gefühl ist, über eine Interstate mit mehreren Supras im Schlepptau (oder besser: die Supras mit uns im Schlepptau) zu brettern. Noch besser ist es natürlich, wenn man mitten in der stockdunklen Wüste irgendwann den Himmel heller werden sieht und weiß: vor einem liegt die hell erleuchtete, größte Spielerstadt der Welt.
After the arrival in California on Saturday we headed out to Vegas on Wednesday traditionally with the SoCal convoy. We met some friends from the Supra scene already in L.A. and made new friends on our way northbound to Nevada. I don't think I need to explain the feeling to anyone while driving an Interstate with a pack of Supras following us, I mean, we followed them. And this feeling gets even better when out of the dark in the middle of desert the sky is getting brighter and brighter: Ahead of you lays the world's biggest playground: Las Vegas.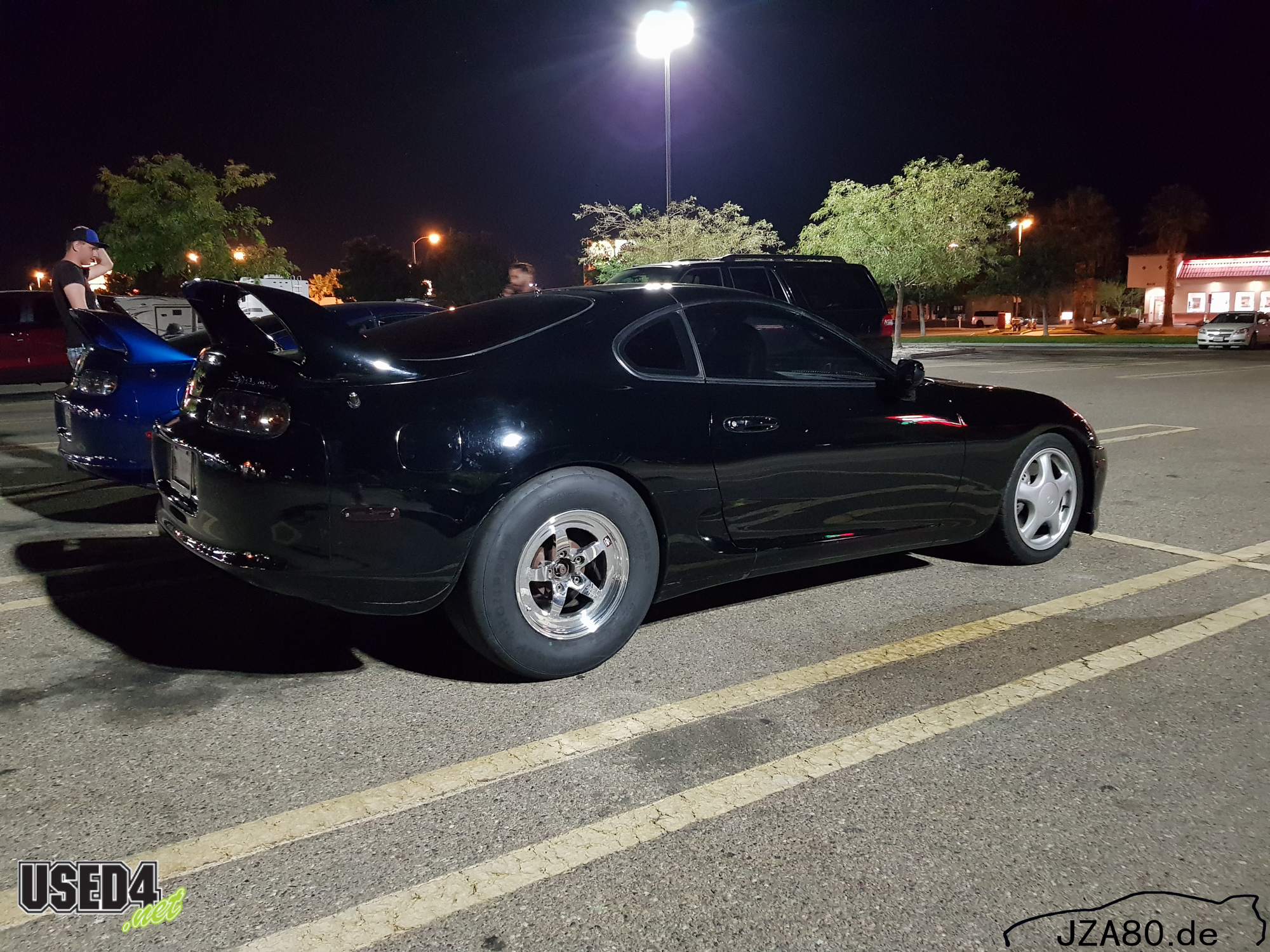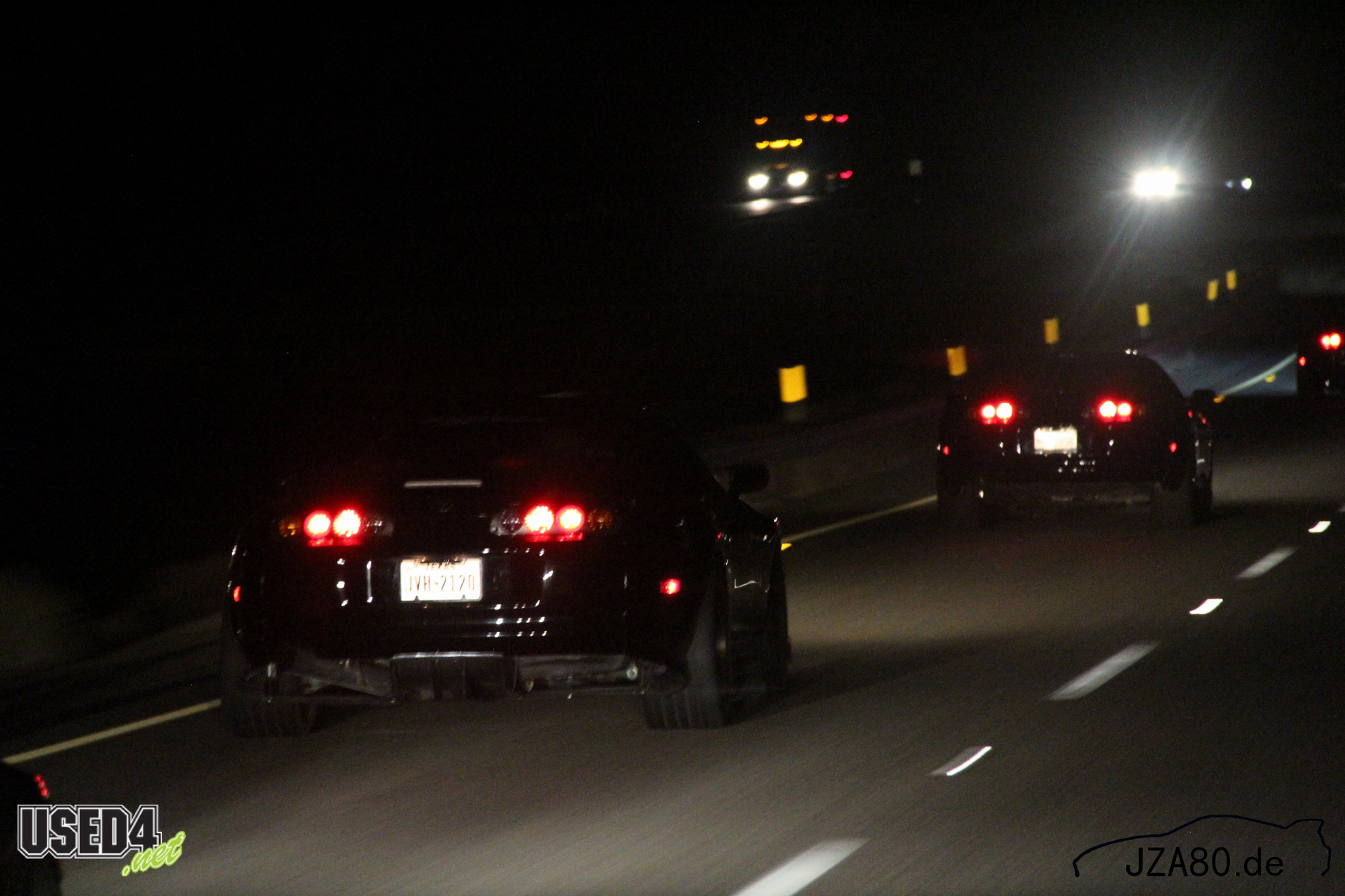 Das Hotel stellt den Supras immer einen separaten und bewachten Parkplatz zur Verfügung, dieses Jahr die oberste Etage des Parkhauses. Für gutes Licht und eine optimale Fotolocation war also gesorgt, zumal sich direkt daneben ein neu gebautes, 8stöckiges Parkhaus befindet, von dem aus man einen perfekten Überblick hatte.
The Hotel offers a guarded parking area, this year the top level of the parking structure. Good lighting and a great foto location were obviously available, and directly next to it a new 8-story parking strucutre that offered great views over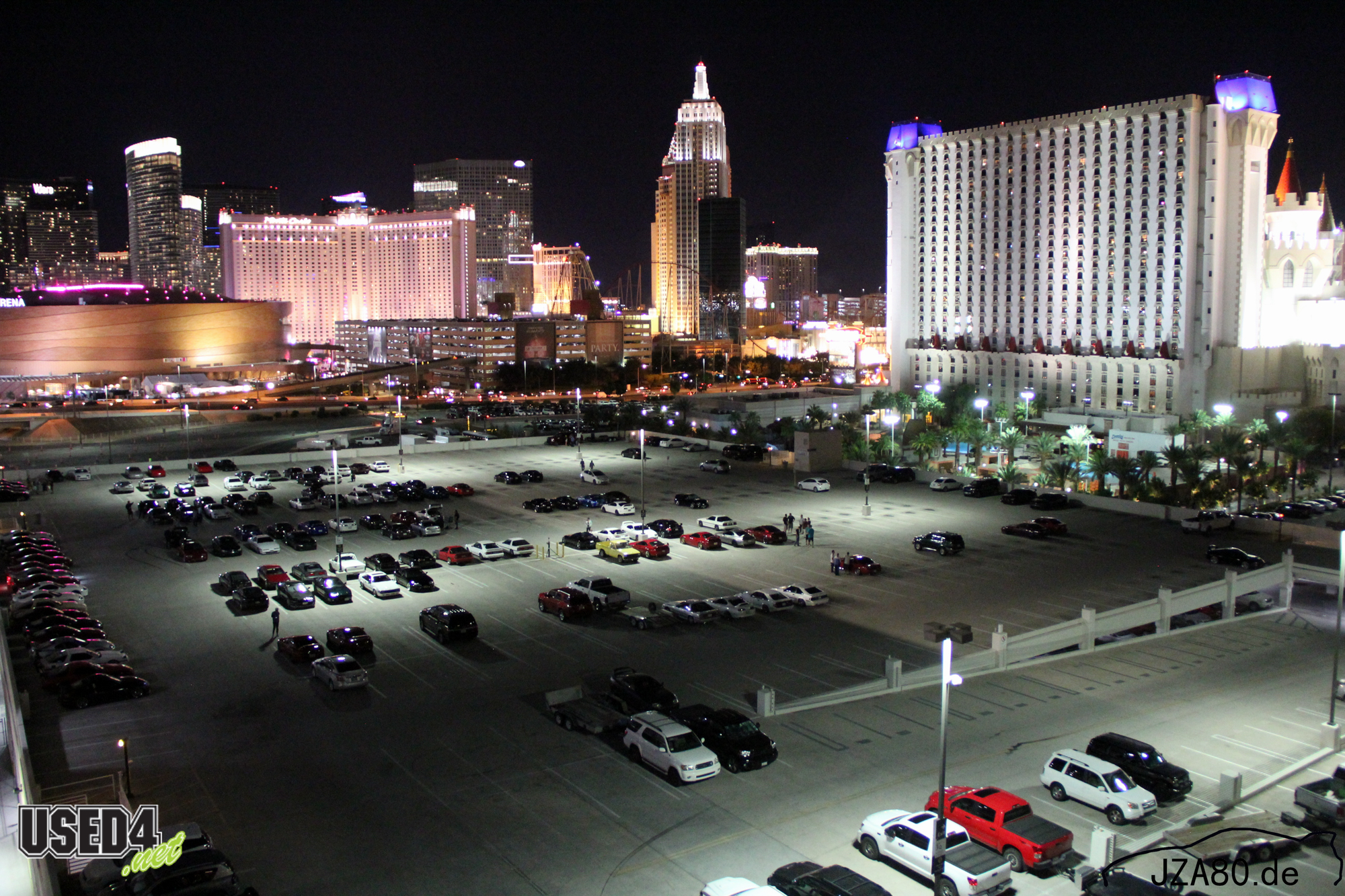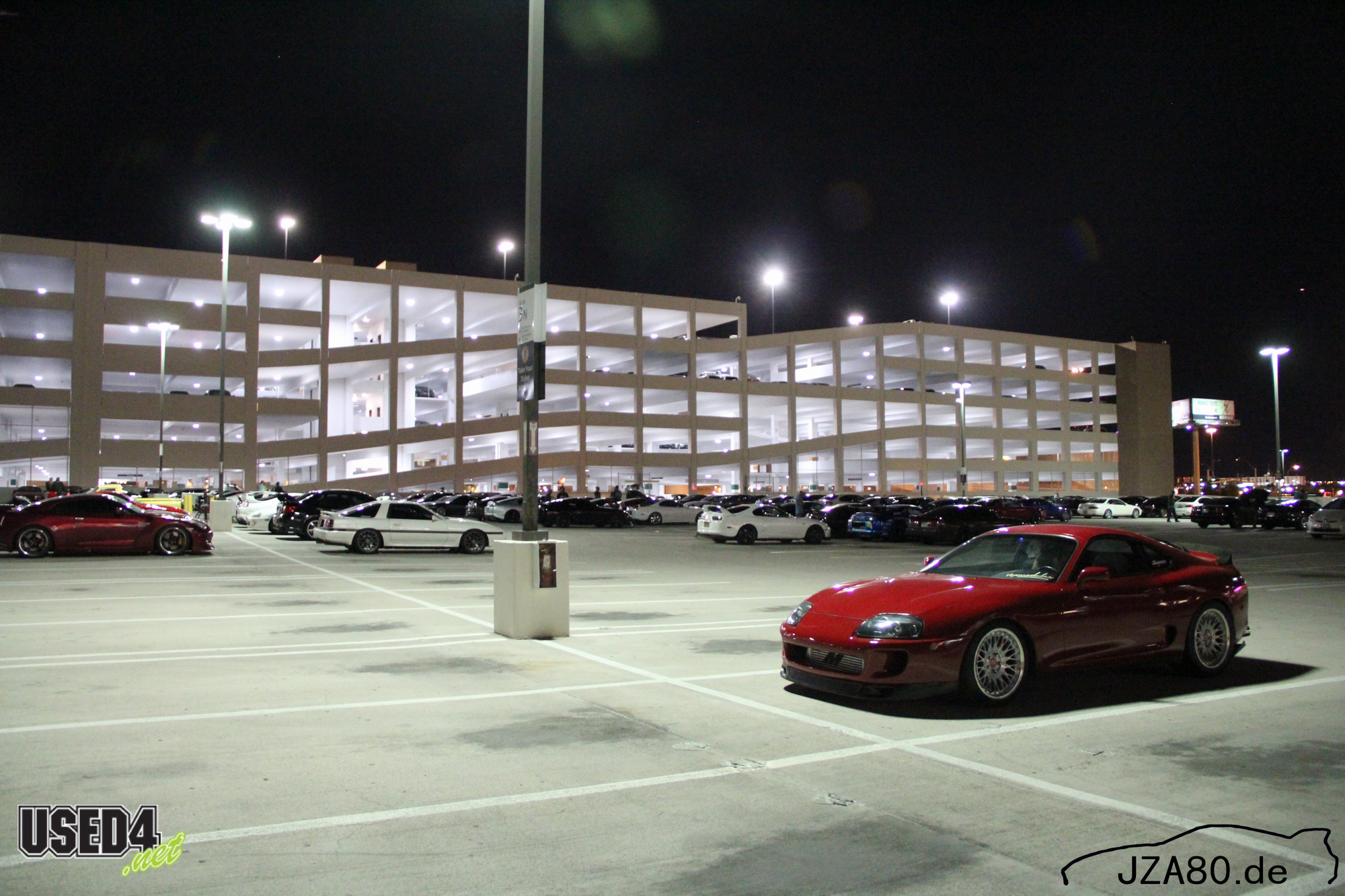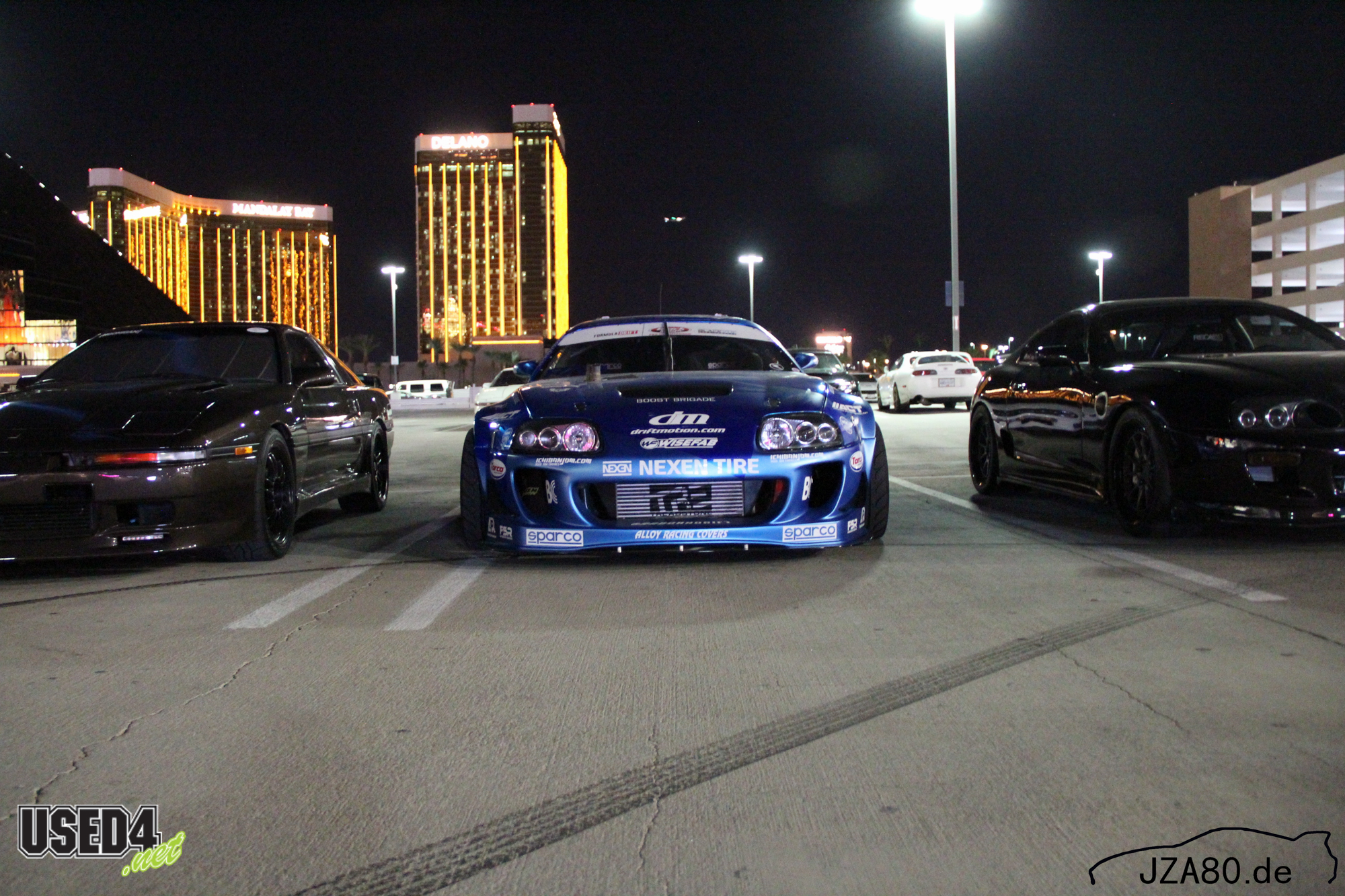 Der Donnerstag stellt immer den Tag des Scenic Drive dar, dessen Ziel dieses Jahr das obere Parkdeck des Hoover Dam war, der seines Zeichens der größte Staudamm der USA ist. Wir nahmen also als Beifahrer Platz in einem von über 200 (!!) angemeldeten Supras aller Generationen (ja, sogar eine MK I war da) und los ging es – in meinem Fall in Matts 600 PS Singleturbo-Geschoss, der mit seinem Vater und deren beiden Supras extra aus dem Bundesstaat New York (!) angereist ist – das ist Enthusiasmus.
Thursday is always the day of the Scenic Drive, which this year was headed towards the Hoover Dam, the US' largest dam. We were lucky being offered a ride in one of 200 registered Supras, I took a seat in Matt's 600hp single turbo beast, who travelled all the way from New York City with his father and their two Supras – that's true enthusiasm!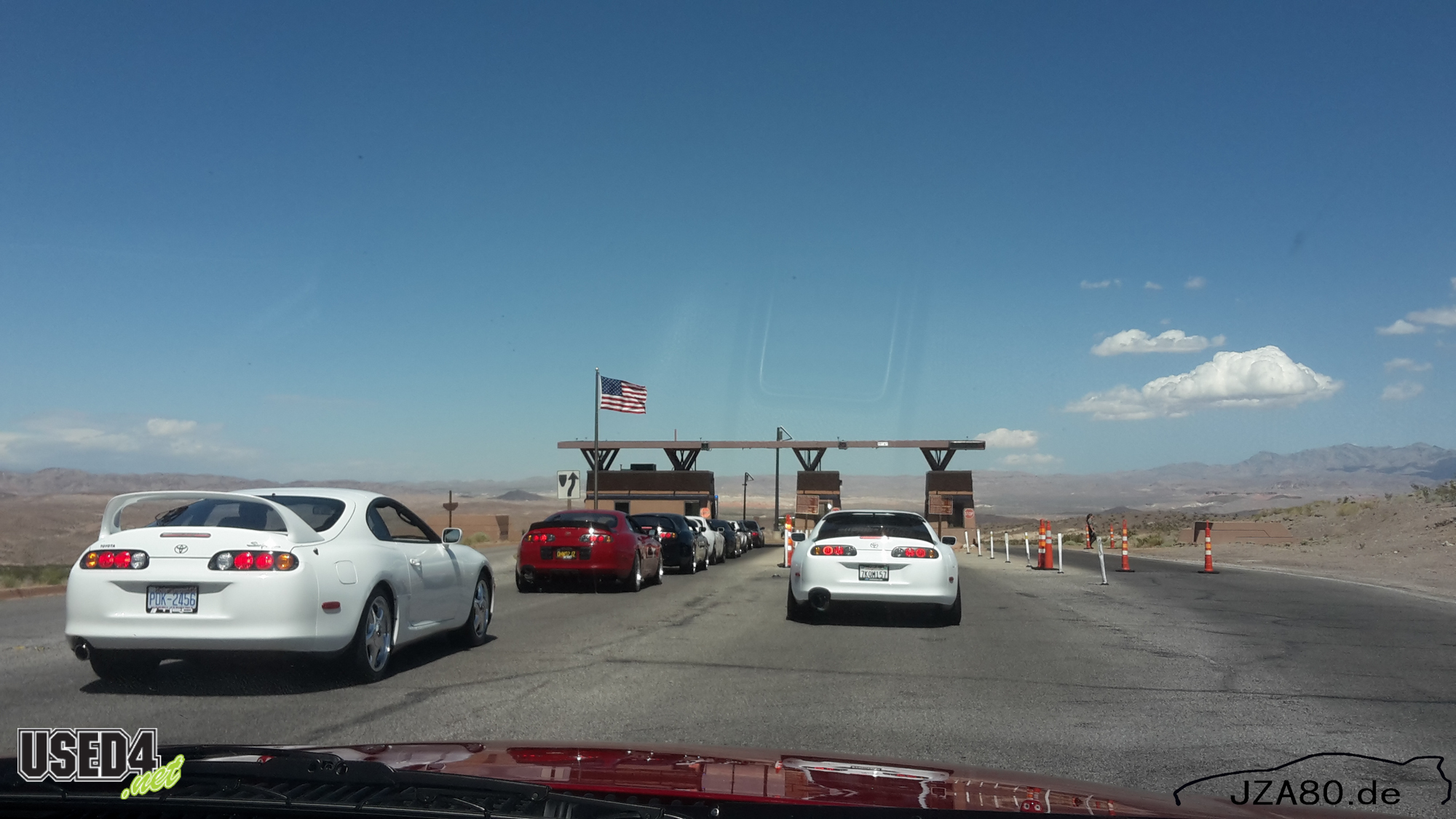 Die Fahrt bestand aus "oh mein Gott sind das unfassbar viele Supras", "oh man, die Landschaft ist der absolute Wahnsinn" und "Alter, das Ding drückt ordentlich". Zeitweise waren wir auch etwas, sagen wir, außerhalb der amerikanischen Verkehrsordnung unterwegs. "So tolle Landstraßen haben wir in New York nirgends, das muss ich nutzen", so Matts Worte, als wir mit minimal erhöhter Geschwindigkeit und brachialer 2JZ-Soundkulisse über die Landstraßen mitten in der Wüste gefegt sind.
The ride consisted from many "oh my god that's a shitload of Supras", "oh man, the scenery is breathtaking" and "Dude, this car pulls". From time to time we were going "slightly" faster than US driving rules allow. "We don't have that nice driving roads back in New York, I need to take advantage of it", Matt's words while driving through the Desert at "slightly" higher speeds than allowed and with the brutal sound of a 2JZ around us.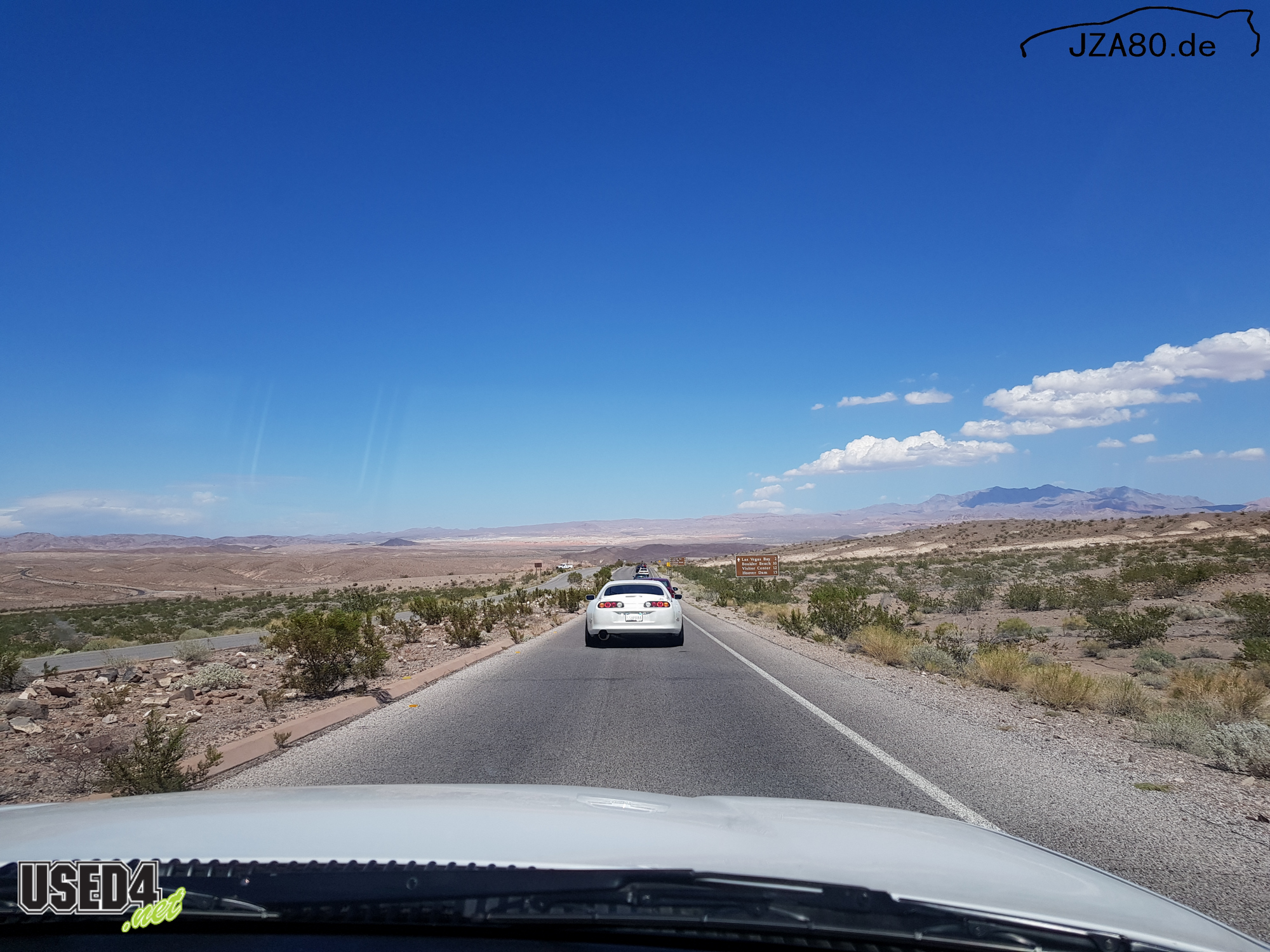 Zeitweise war es, trotz Gruppeneinteilung und Zwischenstopps nicht ganz einfach, die teilnehmenden rund 150 Autos zu koordinieren.
Coordination of 150 cars can become a little bit complicated sometimes
Der Anblick, welcher sich am Ziel bot, war Inhalt meiner feuchten Träume von noch vor 2 Jahren. Ich war Bestandteil meiner eigenen feuchten Träume. Kann man bei dieser Aussicht wohl nachvollziehen.
The sight I had consisted from my wet dreams 2 years ago, I was part of my own wet dreams! I think this is self-explanatory.
Freut euch auf den 2. Teil des Reiseberichtes, in dem ihr erfahrt, wie meine Entjungferung im nächtlichen Las Vegas stattfand und was am Samstag auf dem Las Vegas Motorspeedway geboten wurde.
 Stay for part 2 of our travel report, how I lost my innocence in Vegas and the event at the Las Vegas Motor Speedway.
Andy Kmoch – JZA80.de und USED4.net
Comments
comments
Powered by Facebook Comments